Many players have benefited - Brendon
CRICKET: Scoring a double hundred in a cricket match is a highly remarkable performance, and doing it on debut in a Test match is something beyond that and unique. Brendon Kuruppu who won the runner-up award for the Best Batsman in the year 1978 Ranjan Madugalle was judged the Schoolboy Cricketer of the Year, scored an unbeaten 201 against New Zealand in 1987. Madugalle struck an useful 60 in the same Test to be the second best scorer.
The match ended in a draw as New Zealand spearheaded by 246-run sixth wicket stand between Jeff Crowe (120) and Richard Hadlee (151 n.o. and taking for 4 for 102.
With the end of the first Test, the bomb blast at the Pettah Central Bus Stand sent the New Zealanders back home with two more Tests to be played.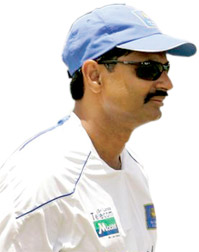 It was an era where many Test matches were not played in the country and the dashing right-hand opener Kuruppu in his 4 Test match career in 7 innings gathered 320 runs with an average of 53.33. He was an automatic choice for the 1983 and 1987 World Cup held in England and India and Pakistan due to his aggressive approach. In his 54 ODI's, Kuruppu has scored over 1,022 runs with the highest of 72. He made his Test debut at the CCC grounds against New Zealand in April 1987 and played his last Test against England at Lord's in 1991.
He became the third player in Test cricket history to reach the double century mark on debut, the others were Pakistan's Hanif Mohammed and England's Len Hutton.
Kuruppu also created another record in that Test, being in his pads throughout the five days as he was the wicket-keeper in the side.
His opening partner was Roshan Mahanama. Kuruppu carried out his bat for 201 runs spending 777 minutes, facing 548 deliveries and reaching the pickets on 24 occasions.
In that 1st Test played at the CCC grounds, Kuruppu's double hundred provided the backbone of the Sri Lankan innings. The home team declared their innings at 397 for 9. Only Ranjan Madugalle (60) was the other batsman to contribute anything worthwhile.
Kuruppu, in his marathon innings had to encounter the bowling of Richard Hadlee, Ewen Chatfield, Snedden, John Bracewell and skipper Jeff Crowe.
Kuruppu who had enough to encounter Hadlee in his 777 minutes stay at the wicket, rated Hadlee as one of the best bowlers he had faced. He said Waqar Younis, Wasim Akram and Michael Holding as the other top bowlers he had come across as an opening batsman in his career.Kuruppu, having done well in school cricket, said that it was great inspiration to be picked as a front runner of the Observer Schoolboy Cricketer of the Year.
Lot of leading players have come through the process and "I am sure this competition will continue in surfacing the very best", he said.However, he was concerned about too many matches being played during the season.
"I think the schools are playing too much of cricket. During my time it was only 10 to 15 matches which put the players in good shape.
Now two matches are played during week days and one cannot rule out the player burnt out", he said.The boys are prone to injury due to this factor and cannot find time even to recover. It is important that the players also concentrate on studies as well", Kuruppu said.