Brighter future for batik industry
Sri Lankan batik industry has a history of over 400 years. History reveals that Sri Lankan villagers have been engaged in the batik industry from the time the Portuguese arrived in the country. It is said that batik was introduced by Portuguese merchants who visited the country for trade activities. Even in Portugal people were engaged in batik manufacturing industry. The industry was thereafter expanded to the maximum during the British colonial era which ended in 1948.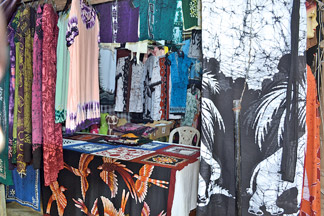 The local batik industry showed a significant improvement during the early part of 1980 with the introduction of the Open Economy in Sri Lanka.
During the colonial era when thousands of British nationals were in the country, many villages in the south and in the hill capital of Kandy were engaged in the batik painting industry. British merchants purchased large quantity of batik products for the foreign market. This helped local villagers to produce more and more batik creations and also to have a good income.
The book on `Traditional Batik in Sri Lanka', written by a famous batik manufacturer of Ambalangoda in the south, Gunasiri Silva says that colonial rulers who were in the country for several decades encouraged local villagers to develop the batik industry and to produce quality batik garments for their market.
The local manufacturers produced batik wall hangings, frocks, kimonas, shirts, sarongs, bed sheets, curtains, kaftans and housecoats.
The foreigners used batik products not only to beautify their official attire, but also to decorate their bungalows.
At present the batik industry is effectively carried out in places such as Kandy, Kegalle, Yakkala, Kadawatha, Imbulgoda, Nittambuwa, Beruwala and some places along the Kandy Road, while batik is also produced in Hikkaduwa, Kalutara, Beruwala, Ambalangoda on the Galle Road.
The industry is also carried out at several ancient cities in the country such as Anuradhapura, Polonnaruwa and Sigiriya where foreign tourists visit very often.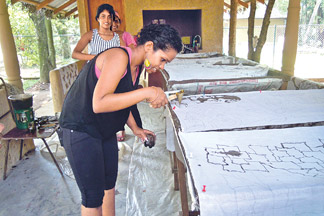 Latest statistics reveal that a large number of batik shops were opened along the main Colombo- Katunayaka road during the past 20 years to cater to foreign tourists who travel between Colombo and Katuanyaka Airport.
Due to the high demand for batik garments after 1980, manufacturers started small scale batik workshops as well as batik showrooms in many parts of the country. The industry was further expanded after 1990 due to the increased demand for local batiks from foreign buyers, especially from the USA, UK, France and Japan.
When foreign tourists made their frequent visits to the country during the latter part of year 2000, many villagers started batik workshops in their homes as self employment ventures.
Current statistics reveal that over 200,000 people, especially females are engaged in the batik industry all over the country.
In addition, small scale industrialists opened batik workshops and showrooms in rural areas and supplied the products to large scale buyers in Colombo and other main cities.
The Government too identified the increasing demand from foreign tourists for batiks and many other traditional handicraft items and opened a handicrafts village at Battaramulla Janakala Kendraya to enable foreign and local visitors to purchase handicraft items under one roof.
According to batik manufacturers, the names of Vipula Batiks, Buddhi Batiks and Saliya Batiks are still famous in the field of batik garments.
The Sunday Observer last week visited a number of batik workshops and showrooms in Kandy Road, Negombo Road and Galle Road to discuss with persons engaged in the industry about the development of their business activities, their proposals and also their grievances.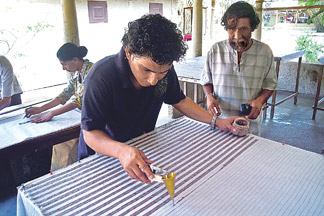 According to some small scale batik manufacturers, the industry will not last long unless authorities take measures to reduce the high cost of raw materials such as dye and wax which are the most necessary components for the batik industry.
A long standing batik manufacturer and a showroom owner at Hikkaduwa, 46 year old, Ruwan Gamage said he has been in the industry for the past 28 years and wants the Government to implement a scheme to supply wax and dye at reduced prices to batik manufacturers.
He also proposed the officials in the Ministry of Small Industries to register countrywide all batik manufacturers under provincial level as it will highly benefit persons involved in the industry.
The owner of Sumathi Batiks at Kalagedihena on Kandy Road, Gayantha Caldera said around 20 persons are employed in his factory and each person is drawing a monthly salary of Rs. 20,000.
He said the cost of raw materials such as wax and dye that are used to manufacture batik garments are very high in the open market and proposed the Government to provide these items at low prices through Co-operative shops.
He said unlike earlier, now locals hardly use batik garments, but foreigners from Western countries still prefer our batiks. Therefore, we will have to produce batiks for the foreign market.
Batik manufacturer Sirisena Peiris (57) of Kalutara proposed the Government to conduct batik garment exhibitions very often in Colombo for the benefit of people engaged in the industry.
He said many small scale batik manufacturers are very poor and proposed the authorities to introduce a bank loan scheme to develop the industry.
He also said the Minister of Traditional Industries and Small Enterprise Development Douglas Devananda once assured that he would help batik manufacturers to send their products to foreign countries, but nothing had happened so far.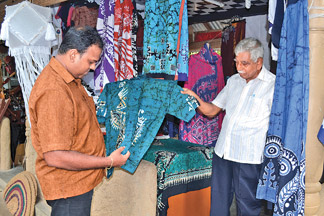 The owner of a batik showroom at Janakala Kendra, Battaramulla , Nimali Kodagoda proposed the authorities to send tour groups to the Janakala Kendra complex, so that small scale manufacturers could sell their products to foreigners.
A batik manufacturer Wijaya Kamal wants the Government to establish a batik sales centre at the Bandaranaike Airport for the benefit of small scale batik manufacturers to sell their products to foreigners.
Gemunu Kohona of Sakviti Batiks in Negombo said Minister Devananda should meet batik manufacturers every so often and listen to their grievances, so that the Minister could encourage manufacturers and get a clear understanding of their problems.
A longstanding batik manufacturer of Nittambuwa, Kosala Haripriya of `Kosala Batiks' asks foreign tour groups to visit small batik showrooms rather than high class sales centres in major cities and in tourist hotels, since their charges are fifty percent lower than the prices of so-called high class sales centres.
Nimal Punchihewa of Kalutara said he has been in the batik manufacturing industry for the past 30 years and proposed officials to arrange the batik manufacturers meet President Mahinda Rajapaksa, so that they could discuss with the President about their problems.
He said he remember a large number of batik manufacturers were summoned to the President's House by former President Ranasinghe Premadasa to discuss their problems.
"The former President thereafter sent a group of batik manufacturers to India on a study tour.