CIC Agri businesses plans:
A 30 percent increase in agri and grain production
CIC Agri Businesses will increase its grain and dairy production by around 30 percent this year, CIC Agri Businesses Managing Director/CEO Keerthi B.Kotagama said.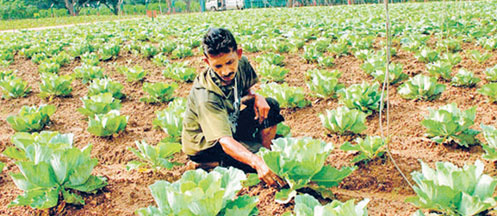 The company hopes to solve the issue of surplus paddy in the country by developing exportable rice varieties.
It will explore the market through research and by improving the processing quality. Currently the country has around 300,000 MT of excess rice due to the Maha and Yala bumper harvests which produced 4.3 million MT of paddy last year.
Paddy farmers are unable to sell their produce due to the excess production. CIC exports rice to 10 countries with types developed for health purposes in Australia,USA , Canada the Middle East are some of the major export markets.
Kotagama said that during the next ten years the company will focus on value addition to agricultural products under the theme 'Nutritious and Healthy Nation'. The company will launch a dairy project in Dambulla to produce a range of milk products. The factory will produce 25,000 litres of milk a day.
'We are also hoping to expand our egg production to 100,000 eggs a day with a hatchery at Naula", Kotagama said.CIC Agri Business will develop a land obtained under a lease in the North as a model farm for farmers in Kilinochchi, Mullaitivu and Mannar and provide employment to around 200 people in the area. The company has commenced maize and seed
paddy out-grower programs in the North with around 1,000 farmers. The company has focused on developing fruits such as cavendish banana,pineapple and papaw which are in demand in international markets.
CIC Agri Business exports bananas to the Middle East and it is in search of land to expand the cultivation for exports. CIC has cultivated 160-acres of banana at its farms at Higurakgoda and Pelwehera.
CIC Agri Businesses entered into a joint venture with Rahimafrooz, a diversified business entity in Bangladesh.
The company signed a MoU with a Dubai and Qatar company for urban beautification. It hopes to set up ventures in Africa for food production.
Kotagama said that with the current global food crisis the need to increase world food production has increased.
The demand for food has increased and prices have shot up by 100 percent due to the growth in population,conversion of food production to energy such as bio diesel in USA and Europe, change of food habits in developing countries and climate changes.