Singer launched Huawei Smartphones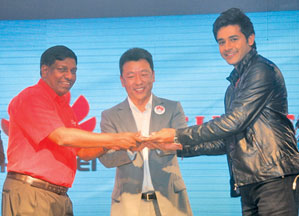 Singer Sri Lanka launched the latest brand of Android-enabled smart devices becoming the exclusive distributor in Sri Lanka for Huawei's range of Smartphones, MediaPads and mobiles. Coming on board as Brand Ambassador to promote the brand was TV and film actor Saranga Disasekara.
The global giant in telecom and mobile devices, Huawei, is entering the Sri Lankan market with a range of Smartphones, within a price range of Rs 4000-64000 to appeal to the youth market and drive the trend towards Smartphones.
Singer Group CEO, Asoka Peiris, said "In Sri Lanka, Singer has made a name for itself built on trust, quality and after-sales service.
We are proud to become the Exclusive Distributor of Huawei's Smartphones, MediaPads and mobiles, as Huawei is a global brand that will make the Android universe more accessible to customers than before by being more competitively priced. It's the smart choice in Smartphones". Singer has launched an exclusive distribution channel to sell Huawei phones, Peiris said.
Singer has a distribution network of over 360 outlets selling several international brands. CEO of Huawei Technologies, Austin Wang said "We are excited to find a partner who will take our brand to the widest market. Singer was the perfect choice because of the extensive reach of its retail network and the trust that the brand commands. Huawei is pleased to bring you our international range of smart mobile devices at affordable prices with convenience and customer service from Singer".