CDB records Rs 630m PAT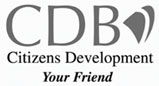 Citizens Development Business Finance PLC (CDB) has posted a post tax profit of Rs 630m for the FY2011/12. It is a growth of 19 percent compared to the corresponding financial year.
Core business bottom-line results for the year and Q4 excluding mark to market gains showed a growth of 158 percent and 540 percent.
The top line grew by 29 percent surpassing the Rs. 2.8 b mark. CDB's net interest income gained 53 percent to Rs.1,248m during the period under review. Earnings per share (EPS) are recorded at Rs.13.10.
The Balance Sheet saw growth of 61.88 percent primarily fuelled by a loan book growth of 68.66 percent to reach Rs.13.2b, while the deposit portfolio increased by 52.08 percent to stand at Rs. 11.39b. Total assets are detailed at Rs. 16.5b as at the year end.
The year end Capital Adequacy Ratio now stands well above the required regulatory requirement of 10 percent, showcased at 17.03 percent, while capital funds recorded strength, at a comfortable level of Rs. 2.29b. Asset quality remained strong, recording a net NPL ratio of 0.37 percent.
The statutory liquidity ratio is 13.30 percent. The net asset value per share is at Rs.44.15 as at the year end.
The CDB Board of Directors has proposed a first and final dividend of Rs.2.50/= per share, comprising cash and script, subject to approval by the shareholders and the CSE.