Maxxis engineering technology recognised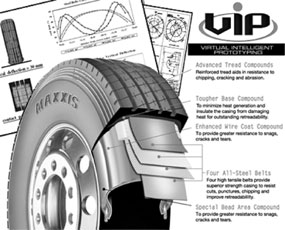 Maxxis trademarks have been recognised internationally as symbols of the highest quality tyres related, to Truck Bus Radials (TBR). MAXXIS TBR structure analysis confirms advanced reinforced tread compound,aids in resistance to chipping, cracking and abrasion.
Tough base compound minimises heat generation and insulates the casing from damaging having outstanding retread ability. Enhanced wire coat compound provides resistance to snags, cracks and tears. Four all-steel belts provide strength casing to resist cuts, punctures, chipping and improve retread ability.