Wear a handloom sari and help industry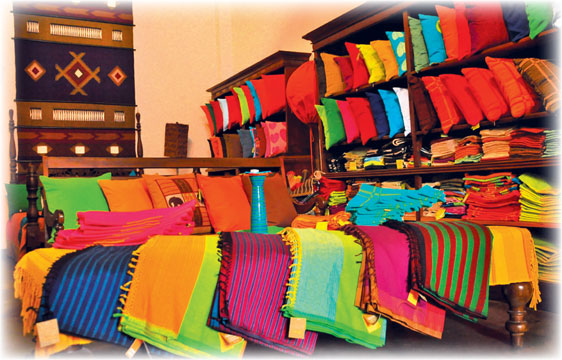 Weaving is one of the oldest industries in the world and the history dates back to the early stage of human civilisation. According to some historical and archaeological evidence weaving was known in the paleolithic era. Sri Lankas textile industry too has a long history which goes beyond 543 BC. According to the Mahawansa when the first Sinhala king Vijaya arrived in Sri Lanka at Thammennawa the tribe princess 'Kuweni', who later became the queen of the king, was spinning cotton.
Although technology has transformed, textile industry to power looms and fully automated mills, still the weaving industry survives in many parts of the world. In India it is one of the largest cottage industries that accounts for 19 percent of its textile production. Prior to the open economy being introduced in 1977 weaving was an important cottage industry in Sri Lanka and thousands of rural people, specially women depended on it for a living.
Today, the handloom industry in Sri Lanka is struggling to survive. Only a few who secured a significant market segment and compete aggressively with all modern imported textiles and garments survived and have confidence of the future.
Selyn is one such brand name that has successfully captured a significant share in Sri Lankan high end market as well as EU market in some specialised products such as soft toys made of handloom.
Selyn is a fair-trade certified company and also among the top ten fair trade certified companies in the hand loom sector. Selyn engages with the traditional Sri Lankan community of hand loom weavers mainly in the Kurunegala and Batticaloa district. The company has established nine handloom workshops and five sewing and handwork workshops in villages in the rural outskirts in these districts.
These workshops are mostly headed by former Selyn members who have been unable to continue work in the main workshop in Wanduragala due to various reasons, such as leaving young daughters or grandchildren at home alone or helping their husbands in paddy cultivation which all part and parcel of the life of a rural Sri Lankan woman. This model enables rural artisans to be self-sufficient and also work within the comfort of their own villages and homes, said the Managing Director of Selyn Sandra Wanduragala said.
Selyn showrooms are in Colombo and Wanduragala, Kurunegala on the Colombo-Kurunegala main road while the weaving community is spread in most of the rural villages in the district.
The showrooms also house a beautiful variety of handicrafts inspired by Sri Lanka's traditional industries and modified to suit modern tastes and trends. Creative products such as lampshades, papers and various decorative products made of recycled handloom cut peaces shows the company's commitment to be a truly fair trade certified company.
Sandra Wanduragala, a lawyer by profession re-launched the bankrupt handloom business of her husband in 1991. Today she is the Managing Director of Selyn and she recalled memories of her humble beginnings in 1991. "By the time I got involved I knew next to nothing on this industry but I saw how these rural women suffer and wanted to launch a social enterprise to help them and also work with them.
We started the enterprise with 15 women and thereafter my brother, Hilary Wanduragala joined Selyn and now we have nearly 1,000 members within our organisation working seasonally. This is a social enterprise and we earn profits but hundreds of rural women too benefit".
With the Government support I got the opportunity to visit Europe and understand the market. I have a knack for artistic work and I thought that I can produce something different and marketable. Our products are different with high quality and therefore expensive but can sell.
We are committed to quality and innovative designs and it is our secret of success.
I can assure you that the quality of our products are well ahead of products from China and India, she said.
Selyn has the control of the industry from fabric to the market and it is one of the strengths of the company and a key to its success.
The procurement manager of Selyn Samitha Wijerathne explained the production cycle. We import cotton yarn from leading cotton producers in India where we can get high quality yarn at a low price. The cleaning and dyeing of yarn is done at our own facility.
In addition, we import mercerised cotton yarn which is smooth and similar to silk yarn for expensive products.
As a Fair Trade certified company Selyn has to maintain strict quality standards through out the production process. Therefore, maintaining our own dyeing facility is important and we are highly concerned about the chemicals we use. The company purchases dye from reputed European suppliers which is very expensive compared to the dyes used in the average handloom industry in Sri Lanka and samples of each consignment is tested.
To comply with environmental aspects we have a waste water treatment facility where the waste water of the dying facility is purified. All these processes add costs to our products and therefore we have focused on the specialised high end market, he said.
Wanduragala said that there are 10 principles to follow to comply with Fair Trade Certification. Fair Trade is a trading partnership, based on dialogue, transparency and respect, that seeks greater equity in international trade. It contributes to sustainable development by offering better trading conditions, securing the rights of marginalised producers and workers. Our handloom garments, specially sarees are for the local market and they cannot be exported. We have a range of 100 percent cotton handloom-based products such as curtains, bed sheets, table mats, shirts and most of the leading hotels in the country are our customers.
Since we have our own dyeing facility we can produce the exact colours our customers want.
We have a soft toys manufacturing factory based on our handlooms and 95 percent of its products are exported to the EU. Selyn participate in two trade fairs in Germany Nuremberg toy fair and Ambiente gift fair in Frankfort every year, she said. Seetha Eakanayake, an experienced hand loom designer in Mapegama,Kurunegala was an independent handloom producer three years ago. As she failed to compete in the market she was bankrupt and today she produces for the Selyn brand.
"Selyn provided me an interest free loan to settle debts and helped me to restart my business. Today we purchase yarn and supply our products to Selyn and we have a stable market.
I have been working in this industry for over 20 years and a present 20 women workers are working with me and have 14 machines", she said.
According to Ekanayake, the trade is not attractive for the younger generation and almost all the women who work with Ekanayake are middle aged. Lack of skilled labour is a serious issue and young girls prefer to go to garment factories in the town. The reasons for low attraction of young people is that the industry cannot generate sufficient income for women. W.M.Somawathi who has three years experience in the trade said that she can weave a saree or nearly six metres of handloom a day but her daily income was only Rs.350 to Rs 400. Ramani Wijesinghe who has 20-years' experience said that she can produce two metres extra and earn Rs.500 to Rs 600 per day. But here the women have a flexible working culture and they come to work after completing all the household chores.
| | |
| --- | --- |
| | |
| Soft toys made of handloom | If you buy a handloom sari you help one rural women. |
They go home for lunch and look after the children and return to work. Wijesinghe said that the job is not too difficult. Men too are working in the handloom industry and in the Batticaloa district there are men who are engaged in this industry.
In India it is a male dominated industry. When asked about the future of the industry? Wanduragala was positive and she said that with the boom in the tourism industry, the demand will increase for handloom products. Already there is an increase in demand and from 2008 due to the recession in Europe, the demand for our toys in the EU declined by 42 percent. But with the end of terrorism, the demand for handloom increased in the local market. The lack of textile designers is another issue, while designers should introduce marketable products. For the sustainability in the industry it should be a profitable business.
The wholesale supply of machinery to households will not help the industry and all such efforts by government agencies and NGOs have failed. All women can help the industry by wearing handloom saries.
If you buy a handloom sari remember that you help one rural woman. We produce wedding saris as well and there is a growing demand for handloom products, Wanduragala said.