Biz Briefs
SLI contingent to MDRT Conference

Sri Lanka Insurance has set another benchmark with thirty of its top achievers qualifying for the elite Million Dollar Round Table this year – the highest ever number of delegates produced by a Sri Lankan insurance company.
Participation at the Million Dollar Round Table is a seal of excellence for the public to trust that they are working with the best in the business for their life insurance and financial needs.
The 29 top achievers will now take wing to Anheim, California, in the United States to attend the Million Dollar Round Table (MDRT) Annual Conference 2011 to be held from June 9– 13, 2012.
---
Singer moves to mobile phone market

The Singer company has moved into the mobile phone market last year andhas been very successful said Singer CEO Asoka Peiris . The main reason Singer moved into this market is because mobile phones as a unit sale is a huge industry . He said that for a year in Sri Lanka there is a sale of four million mobile phones and it is ten times the sale of Televisions. For a year 400,000 TV sets are sold. It is an industry that connects with the youth as it is the first consumer durable they purchase.
---
Burnetters to represent Lanka at Cannes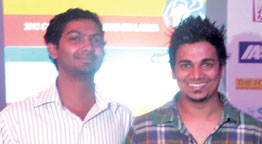 Rameez Fazal and Danushka Kathriarachchi of Leo Burnett Solutions Inc. (LBSI) the Sri Lankan office of Leo Burnett Worldwide, will represent Sri Lanka at Cannes at the Young Lions TV category at the 59th Cannes Lions International Festival of Creativity in France.
Speaking of their win in the category for Young Lions TV, Rameez said, "I am thrilled to be part of the winning team. This is the second time I participated in the local Young Lions Competition and I am looking forward to the experience that I would gain by being part of the Sri Lankan team that will be participating.
---
Jehaan Ismail CEO of First Capital

Jehaan Ismail was appointed as the Chief Executive Officer of First Capital Holdings PLC. Ismail, whose 28 years in banking has included several key international postings for HSBC. He was Chief Operating Officer of HSBC Colombia S.A, based in Bogota, Colombia, in his final stint with the global banking giant.
Following his appointment as CEO of First Capital Holdings, he will also sit on the company's Board, a spokesman for the Company said.

---
Huawei annual revenue $20 bln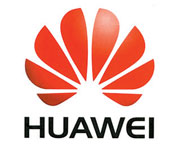 The Huawei company was launched in 1987 with an initial capital of $ 5680 and today earns an annual revenue of $ 20b. In addition to being a manufacturer of mobile phones, Huawei is a global powerhouse in mobile telecom infrastructure equipment with 40 of the top 50 mobile telecom operators in the world operating on Huawei's platforms. The company operates in over 140 countries.
---
Kandurata Umbrella opens branch in Nawalapitiya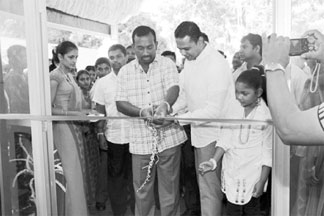 Minister of Sports, Mahindananda Aluthgamage opened a Kandurata Umbrella branch in Nawalapitiya recently. Chairman M.T.M Naushad said consumer demand was the main reason to open a branch.Kandurata products are exported to Malaysia, the Maldives and the Middle East. These products are also exported to European countries including England.
---
Singer Finance in Embilipitiya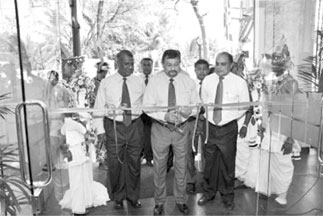 MD and CEO, Singer Finance ,Sri Lanka PLC, Shantha Wijeweera opened the Singer Finance branch in Embilipitiya. Director - Human Resources, (Left) Chitral Perera and Director - Finance ,Priyath Salgado look on.
---
Nawaloka Hospitals sponsors Arogya 2012
Nawaloka Hospitals is the official cardiac partner of Arogya 2012, the international healthcare exhibition to be held from August 17 - 19, at the BMICH.
Arogya 2012 is organised by the National Chamber of Commerce and the Ministry of Health to apprise Sri Lanka's expertise in the healthcare sector. Many organisations engaged in various activities in the healthcare sector such as pharmaceuticals, medical services, medical equipment, laboratory services, nutrition, sports medicine and other medical-related services reserved their stalls.
---
Union Bank opens branch in Ambalangoda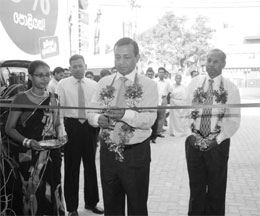 Union Bank of Colombo PLC (UBC) opened a branch in Ambalangoda. Chairman of UBC Alex Lovell opened the branch. Union Bank is one of Sri Lanka's fastest growing banks with diversified business interests including Unit Trusts, with the acquisition of National Asset Management Ltd. The Finance and Guarantee company limited has over 50 years of heritage.
---
Hemas Hospitals awarded OHSAS 18001

Hemas Hospitals in Wattala and Galle were recently awarded Certification in International Standard for Occupational Health and Safety (OHSAS 18001).
OHSAS 18001 is a multi-managerial standardisation concept concerned with enhancing the safety, health and well-being of patients.
---
ODEL rewards outstanding sales staff 70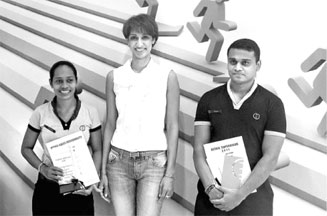 Ms K. K. Jayasri Malkanthi and H. M. Nilanga Indunil of fashion retailer ODEL were judged Sales Personality of the Year 2011 and Supervisor of the Year 2011 at the company's annual awards for staff. Here the two winners with ODEL founder and CEO Otara Gunewardene.