The heartbeat of a princess
Literary judgement often rests on antithesis which makes us understand how a mind is directed towards one's writing. The irrefutable evidence of her mentality winds its way in the most impetuous flights of visions, illuminating the diction that occurs from a distance.
Lyrical loftiness and poignant melancholy permeates her lines. She is lost amidst the powerful livery of emotion but steadies herself on and off. Her writing can be read with calm pleasure for ingenuity.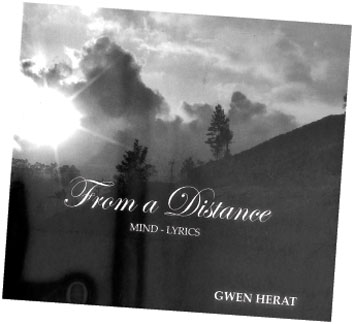 Then, is this then bubbly girl I knew decades ago who would clutch on to her books, bypass me and the rest with a gentle smile but never spoke or even looked in my direction. Since then the excellence and dignity she has acquired whose hearts she has touched without knowing, glows with essential quality.
She is Gwen heart.
Elanor Roosevelt once said; 'The future belongs to those who believe in the beauty of their dreams'.
Dreamers
She may have had stunning dreamers such as Gwen heart in her mind in the new millennium; and how true: A mind bender, a dream motivator, this talented writer bears her heart out in From a Distance. A unique book full of stanzas running through poems, prose, sonnets and snippets. She takes us all on a summer journey.
Most of all, I like her cheek. I like the audacity with which she takes on the English language when she confesses to a collegue (page 96)'We do not have to be pressurised by the norms of the English language. There have to be breathing space between lines, the freedom to write with no restrictions. Someone must be bold enough to set the precedence. Let me be that one.'
Not so fast, Princess. Perhaps in the next century or two. Locked between sparsely worded Prologue and an Epilogue (here again she sets the pattern. May be the first writer to come off with such a short Prologue followed by an equally reduced Epilogue) is the explosive mind of a poet whose passion and fire though contained, reels over words of anguish and the urgency to unburden herself of her dilemma.
These are instances that writers find crossing their paths and must be taken in their strides. She has the strength and literary acumen to overcome such challenges.
Spiritual love
From a Distance celebrates her spiritual love for God, man or vision? She is stubborn, unyielding; she is crafty and lured the reader towards its quest. The book is also about the heartbeats of a Princess who possesses the reflective elements of dignity. From a Distance should have been titled Heartbeat of a Princess because it is all about the beats from within.
In his foreword, the distinguished Prof. Ashley Halpe introduces it as a book having a legend-like end.
Heartbeat of a Princess is dreamy and youthful; a medley of adolescent imagination so typical of the writer's mind that the young go through during their growing up time. However, she wails that turn melancholy in readers' minds and holds back her exuberance. Instead of dazzling them, Herat drags them through the complexity of her lines.
'But not so my little one;
Amidst the purring, stirring buds'
The, suddenly she turns around with fury, reproaching someone she knows in
I am sorry;
'How vainly men think of their ego
whose short and narrow pride abide.
To sing their eloquence in triumph
And wallow in mockery'.
She also displays a sense of humour and with in ME OR I? which is sort of autobiographical.
The preceding introductory synopses by RSK (R.S. Karunaratne) wondrously enhance the writing matter and help readers grab the meaning with immediate effect.
The sonnets are brilliant, mature, commanding and near - Shakespeare but Herat has failed to rise to the principles of From a Distant. She is vague about the character that rises from this long poem of forty-five verses.
Herat struggles for a person who has a free flow of words and is not herself but quickly turns around to amend with a touch of lyricism in every page. Being a Buddhist I do not know how to put it across her faith. It is obvious she is inspired by God of whom she celebrates.
Thereby, and appropriately dedicates this fine study to an eminent scholar
- Bishop.