Medical Drug mafia
More powerful than the underworld:
* People lose faith in hospitals and doctors

* Time spent in hospitals rather than workplaces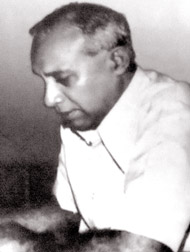 It is not long ago that a panel of expert pharmacologists concluded and reported to the Health Ministry that Sri Lanka needs just 278 varieties of drugs to treat diseases prevalent in the country.
But the number of drug varieties available in the market is a staggering 1,450, nearly five times that figure. No wonder hospitals are full of patients. The Sri Lankan population is made to think that they are a bunch of sick people. Our days are spent in hospitals instead of workplaces contributing to national productivity.
People have lost faith in hospitals and doctors. Do we have a choice but to listen to them?
There were quite a few doctors who were vociferous and made an effort to make themselves heard, emotionally speaking on behalf of patients' rights but of late even they seem to have vanished into thin air. You get bombarded with free medical advice given over the counter via the media.
Such advice gives little solace instead gets you racing to the nearest hospital for some more check-ups, to get yourself pricked and exposed to radiation that could ultimately give you cancer.
Can anyone disagree if I say treating patients is the most lucrative business in Sri Lanka? Indeed it may be worse in other countries. But the situation was never this pathetic in Sri Lanka. The private heath sector is slowly killing Sri Lankans.
The facts are so bitter that it may hurt a lot of people. But the following are true accounts of people who spoke to the Sunday Observer.
Nalani is a mother of three school going children. She is a housewife but with very little time to spare having to care for three ailing elders, her parents and the mother in law. Her father is a critical heart patient. Living in Colombo she channelled a doctor at a nearby private hospital to get medical advice for her father.
She was told the doctor will start seeing patients at 7 p.m. Since her number was 2 she was hoping to finish everything soon and go home early. Time passed by slowly and by about 9 p.m. she became an involuntary 'clock watcher'. There seemed to be no sign of the specialist she channelled. Her father who was reaching his 80s, became restless. It was hard for her to calm him down . It was 11 p.m. when the doctor finally made his way, tired and sleepy. Fortunately, they were from Colombo, but one can imagine the plight of innocent patients from the outstations who have to sit on steel chairs for hours on end and worse, find that they have no buses to go home at that time.
Sharon is a single working mother. Her father has been prescribed an injection to stabilise his haemoglobin levels due to a renal condition. On that particular day she stepped into the local pharmacy looking to buy that green colour package containing the drug that she had been buying for the past few months. It was made in Belgium. The patient's faith in a particular dry cures him faster than the medicine itself.
"We don't get that anymore. But we have a substitute from China. It also has the same medical properties," was the reply she got from the pharmacist. She tried different pharmacies but to no avail. The drug was out of stock or not imported anymore.
When it comes to medicine, shouldn't the patient have the right of choice? He should decide if he wants the expensive drug or the cheap alternative- indeed the doctor could advice. But our decisions are ours to take. The market must have both types. But instead what you have in Sri Lanka now are many varieties of cheap substitutes that confuse the patient.
It is no secret that pharmaceutical companies palm out handsome commissions to every person down the line to push their products to the market. Then comes the turn of medical practitioners to get rewarded in the form of incentives for prescribing their product. Is this the norm in other countries?
Why can't the state keep a tab on medicines that should be allowed in our marker? Why do we need so many different varieties of the same drug if they have the same properties? Ten doctors prescribe ten different varieties for Hypertension (High Blood Pressure). Is this necessary? How are we to know? These are serious questions that the authorities must answer. The people may be ailing not because of disease but because of the excessive intake of medicines.
The following is something experienced by none other than yours truly. A cousin of mine was getting treatment for a cyst in the outer wall of her right ovary. She was under hormone therapy. She was asked by the doctor to undergo a basic cancer screening test known as CA 125, a blood test.
I accompanied my cousin to an established private hospital in Colombo. The test, a mere three months ago, had cost her Rs.2900. Upon my insisting she took Rs.4000 instead of Rs.3000 and the handbag was left in the car. We queued up in front of the cashier. When my cousin's turn came the test was duly informed and the cashier billed Rs.3200. Eyebrows raised, we looked at each other. A mere three months and the test costs Rs.300 more. This is to say the least. Is anyone out there to monitor all these?
Private hospitals follow no standard policy on anything. Room charges, medical treatment, tests and food, etc are charged exorbitantly. There is a charge for even changing linen - and outrageous amuonts too.
Patients constantly doubt if the tests prescribed by the hospital or the doctor are actually necessary. But how are we to know? Instead of relaxing and feeling relieved that you are in safe hands, when hospitalized, patients have to be on the alert for attempts to swindle them.
The beautiful clerk at the admissions desk even goes to the extent of probing on the patient's income before revealing the availability of rooms. A person working and having a generous medical insurance facility will definitely have to end up in a luxury room.
The Health Ministry spokesperson W.D.Wanninayake said the National Drug Policy (NDP) and the Amendments to the Private Hospital's Act are in the offing to streamline all such malpractices in the private sector.
According to him the proposed laws under the NDP call for the setting up of a National Drugs Standard Council to strictly ensure that drugs that are locally manufactured as well as those imported are of high quality. A pricing formula will also be implemented so that there will be a price control on all drugs available in the market.
It also proposes to break the market monopoly of certain companies. The proposed laws will also compel doctors to prescribe medicine by their generic names instead of brand names.
Not just the doctors but also the import of drugs will be done under the generic name if the laws come into effect. In case of a breach there are facilities to seek legal redress.
But when will they be actually implemented? The draft of the National Drug policy, handed one year ago by the Ministry of Health, to the Legal Draftsman's Office, has gone missing!
A fresh copy has been handed to the Legal Draftsman and the Health Ministry is awaiting their inputs to finalise and implement the law. The medical drug mafia is more powerful than the underworld. Memories are still fresh of Prof. Senaka Bibile, the celebrated pharmacologist who died under mysterious circumstances in 1977, trying to bring in state control to rationalise the use of pharmaceuticals in Sri Lanka.
The National Pharmaceuticals Policy proposed under his advocacy in the 1970s strove to bring in provisions to the law to ensure impoverished people get drugs at a low price and also doctors prescribe minimum required drugs to cure an illness.
The on-going attempts by the present minister too have been met by stiff resistance by drug lords. For the benefit of all patients we hope the evil will be conqured this time.