Suwahas Mal :
program generates market for flower growers
Today the word is not 'growing flowers' but it is floriculture. The one time hobby which provided colourful and sweet scented flowers to beautify our surroundings and for religious purposes has today become a lucrative business venture with a never ending growth. There is considerable opportunity in both export and domestic markets for cut flowers from southern Asia.
Using native plants, botanists are now trying to create new varieties of ornamental plants to suit the world market. Although Sri Lanka lost ownership of a few yet highly valuable plants as a result of gene piracy, we still have more in store of our bio-diversity treasures. The Department of Botanic Gardens continues to research on this.
Today flowers in commercial scale are grown even in the area with least rainfall in Sri Lanka - Hambantota. On an average Hambantota receives nearly 650 millimetres of rain annually while even Mannar district receives more rain around 750 millimeters. Suriyawewa in Hambantota is a land with dry and hard soil. Even in such a situation, Abenayakege Wijesiri with a clear target, dedication and hard work managed to succeed in floriculture business.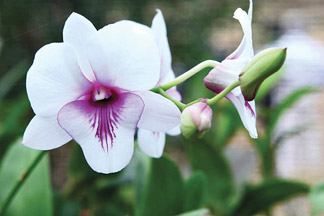 Having started his venture in 1990 in Horana, Wijesiri has today become one of the leading flower providers in the business he established in Hambantota.
"I started this thinking about the future for the Hambantota district and fulfilling the flower need of the local market. The general acceptance was that these flowers could not be successfully grown in the dry zone.
"With a clear target, dedication and hard work I managed to succeed in this business," said Wijesiri.
"Today youth continue to complain about unemployment. Growing ornamental flowers is an excellent opportunity for self employment", he said. Today it stands as one of the most popular self employment ventures - both among the rural and urban communities.
"I started with only fifty plants in 1990. During the initial stages the plants were destroyed due to a disease and I didn't have sufficient money to restart the industry. But with great difficulty I restarted the business and today I manage my business with 12,000 orchid plants," he said.
The village based societies, the Department of Botanical Gardens establishes, really gives us strength through which we act jointly and strongly, making all our efforts successful, Wijesiri added.
Per week Wijesiri sends 2000 - 3000 flowers for sales. Colombo, Salons, flower shops in Hambantota and its vicinity as well as leading flower shops in Colombo demand his cut flowers, mainly the whites and purple shades.
Though the monthly gross profit changes one can earn almost close to 40,000 rupees per month through selling orchids, according to Wijesiri. "There is a great demand for these flowers especially to make flower bouquets for weddings and other occasions, flower wreaths etc.," he added.
According to Wijesiri the total cost per month for the cultivation on fertilisers, disease control and other expenses reaches around Rs. 10,000 to 15,000. "One needs to give total dedication to see a successful cultivation and business at the end. It is just like bringing up a child. This cultivation needs such love and care," Wijesiri added.
For eight years Indika Wijayasooriya has been involved in floriculture in Marandagahamula in the Divulapitiya electorate of the Gampaha district. "I started with flowers like Orchid and Bougainvillea on a small scale providing only to the demands of the local market," Wijayasooriya explained. "In the very beginning of my career it was mainly self learning through books and attending workshops which I managed to find," Wijayasooriya said.
Later Wijayasooriya started growing plants for cut foliage like plants belonging to Genus 'Sanderiana' such as 'Dracaena sanderiana' (Lucky bamboo, ribbon plant) and Green Palm. "The market has a high demand for foliage and potted plants. We need to expand ourselves to these areas as well in order to make this business a success," he added.
Accordingly today in the local market one 'Anthurium' could fetch Rs. 25 - 30 on an average and sanderiana branches depending on their length could be priced between Rs. 4.50 to Rs. 10 - this may vary according to the demand in the market - shortest branch with a length of 18 centimeters and the longest in demand 52 centimeters.
"I started 'Anthurium' quite later but even now I manage to sell 500 - 600 flowers per month from my cultivation with 1000 plants. And on an average Sanderiana plants if grown in one acre would give 20,000 branches as harvest," he explained.
Today the Marandagahamula Flower Growers Society has become one of the most active groups in the industry in Gampaha district under the 'Suwahas Mal' project of the Economic Development Ministry. Started in 2006 April, the Society initially has had only 36 members. "I joined the society a few months after its inception and at the very beginning the group was not that attractive as there was limited ventures for us to approach.
After joining the 'Suwahas Mal' project and actively getting involved in expanding the membership and holding exhibitions to promote sales and educating the members the society started growing up," said Wijayasooriya. Today the Flower Growers' Society in Marandagahamula has 116 members, all residents of the locality. "We gained special attention of the Economic Development Ministry programs and started working closely with the Department of Royal Botanic Gardens.
Since 'Liya Abiman' program was focusing heavily on self employment we at the society decided to invite Pushpa Rajapaksa under whose guidance the program runs. She was very satisfied with the progress and today many enthusiasts are eager to join us to start as a self employment venture," he added. "We get regular educating sessions and discussions on floriculture conducted by the Department of Botanic Gardens," he added.
The Flower Growers Societies get support from the Department of Botanic Gardens in holding exhibitions to promote their sales as well as technical knowledge. "In addition, we are trying to elevate business levels of low income earning members of our group. In this effort we managed to help them get a loan from the People's Bank through a collaboration between the Ministry of Economic Development and the Bank and three society members signing as guarantors," he added.
With a live and sound market, the growers worst fear would be deadly diseases affecting the plants. With the special training sessions given to the growers through the Botanical Gardens Department and the growers are skilled in identifying diseases at an early stage and immediate prevention steps. However, technical assistance in post-harvest management as well as other research areas are required for better potential.
'Suwahas Mal' program is created in order to create a conducive environment for this lucrative industry. The Economic Development Ministry, through the network of Botanic Gardens of the country conducts flower exhibitions and creates a market place for the flower growers of the locality.
Breeding of cut flowers and ornamental suitable for the floriculture industry commenced in the 1970s and is being continued to date. According to Director General of the Department of Botanic Gardens Dr. Siril Wijesundara, the facility for Micro propagation was initiated in the early 1970s and has since developed into a research and production laboratory of micro propagated Orchids, 'Anthurium', Ferns and native plants of Sri Lanka.
Micro propagation is growing plants using tissue culture technology. Popularising micro propagation is one of the best attempts in making modern and improved cultivars more available. This would also be an assured answer to the shortage of good quality planting material. The advantage is that this method provides similar plants with identical characteristics which is a key factor in exporting flowers and foliage. The Department of Botanic Gardens have lab trainings for flower growers who are interested in micro propagation which can be adopted in own back yard as well, according to Dr. Wijesundara. The industry can grow much further as the Government under the 'Mahinda Chinthana' is aiming at enhancing the economic stability of the rural masses. "The floriculture sector in Sri Lanka emerged as a lucrative foreign exchange earning venture in the recent past and with the inception of 'Divi Neguma' Program under the guidance of Economic Development Minister Basil Rajapaksa floriculture is identified as one of the best ventures for self-employment," Dr. Wijesundara said.
The special efforts to make this sector further developed to generate income and provide more employment became a high priority, in order to economically strengthen a Family unit. Thus started the 'Suwahas Mal' program to promote floriculture and enhance the business potential of existing growers.
"We have a skilled labour force in this industry and the only issue is that we need more growers. Which means more people need to come into this business," said Dr. Siril Wijesundara.
As more people can be employed per hectare, this industry indirectly provides job opportunities to many people. "Sri Lanka has a diverse climate suitable for numerous crops, and as even the marginal lands can be used to grow export quality flowers and foliage we do have a better future in floriculture industry," Dr. Wijesundara added.
"Utilisation of unproductive lands or abandoned cultivation sites to grow high value crops for higher income generation is another aspect we need to look into," he added. Sri Lanka, being a tropical paradise with a high density of plant species stands a better chance in this trade with a little support of modern technology. Floriculture, as a business, has been in existence in Sri Lanka for a considerable period of time. Yet being more exposed to the world market more were the chances that flew into this country providing space for floriculture to expand.