What sunspots are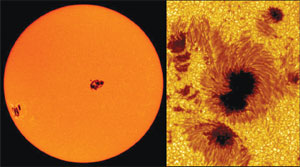 The dark blotches seen on the Sun's surface are called sunspots. They are thousands of kilometres across and usually occur in pairs. The reason they are dark is because the blotches are slightly less hot than the rest of the Sun's surface.As the Sun rotates, the blotches slowly cross its face - in about 17 days at the equator and 26 days at the Poles.
The average number of spots seems to reach a maximum every 11 years. Many scientists are of the view that these sunspots maximums are linked to periods of stormier weather on Earth.
---
What the periodic table is
The chart where all the elements are ordered according to their properties is the periodic table. Columns are called 'groups', rows are called 'periods.' Elements in the same group have the same number of electrons in the outer shell of their atoms and similar properties.
---
Who the Neanderthals were
The Neanderthals are a type of human who lived in Europe and Asia from about 200,000 to 35,000 years ago. They were a short, stocky people with ridged brows. They died and were replaced by modern humans who are believed to have originated in Africa. No one knows why the neanderthals died.
---
What totem poles tell
Native American people who lived in the forests of northwest in North America carved totem poles which were very high. The poles depicted various things.
They were carved to record their family history and to re-tell ancient legends about the powerful spirits that lived in all the rocks, mountains, wild animals and tress.