Variety
Today is Father's Day:
Give him due credit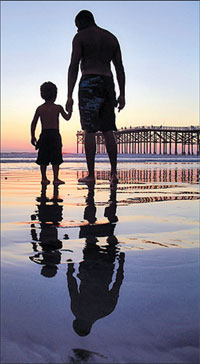 Despite the modern trends influencing the social and cultural aspects of life of the people in the world, the status symbol attached to a father as the head of the family,continues to hold, especially in Sri Lanka. He may not be the sole bread winner of the family anymore with the mother also taking up this role in most instances. However, a father is given pride of place in the family unit; he is respected and looked up to for guidance, security and protection.
Most often children may not be able to understand the depth of a father's love because unlike mothers, some fathers are not very demonstrative with their emotions. They may sometimes appear aloof and even indifferent to the needs and wants of their children. Do not let this influence your relationship with your father because he does care very deeply for his children.( Of course, there may be exceptions. )
A father's love is also as deep as the ocean and solid as a rock. Many fathers will toil hard without complaining to give everything a child needs to grow and succeed in life. He will silently take pride in all that is achieved by his children and love them for who they are. So, never doubt a father's love even if he may not be someone who goes out of his way to show his feelings to you. Show him how much he means to you in your life, just as much as you would express your love and appreciation to your mother for all that she does to ensure your welfare.
Sometimes children are more relaxed and open with their mothers than with their fathers. They hesitate to show how they really feel about them . Do not hold back whatever you need to tell your father;whether you need to ask his forgiveness for something wrong you may have done, ask his advice or simply say I love you. Don't leave room for regrets....
Miru.
---
Melodies for dad...
When it comes to odes to parents, fathers generally get the short end of the stick. Look up the wonderful songs,poems and quotations written for fathers. There are many songs sung by our local artistes too honouring and appreciating the role played by a father. One such song which speaks volumes for the depths of a father's love is Piya senehasa by T.M. Jayaratne.
The songs published here are popular English songs. One speaks of how a child who has caused much pain to his father wishes things were different between them.
---
Silver haired daddy of mine
In a vine-covered shack in the mountains
Bravely fighting the battle of time
There's a dear one who's weathered life's sorrow
It's that silver haired daddy of mine
If I could recall all the heartaches
Dear old daddy, I've caused you to bear
If I could erase those lines from your face
And bring back the gold to your hair
If God would but grant me the power
Just to turn back the pages of time
I'd give all I own if I could but atone
To that silver haired daddy of mine.
I know it's too late, dear old daddy
To repay for the heartaches and care
But dear mother is waiting in heaven
Just to comfort and solace you there …
---
Daddy's hands
I remember daddy's hands folded silently in prayer
And reachin' out to hold me, when I had a nightmare
You could read quite a story in the callous' and lines
Years of work and worry had left their mark behind
I remember daddy's hands how they held my mama tight
And patted my back for something done right
There are things that I'd forgotten that I loved about the man
But I'll always remember the love in daddy's hands
Daddy's hands were soft and kind when I was cryin'
Daddy's hands were hard as steel when I'd done wrong
Daddy's hands weren't always gentle but I've come to understand
There was always love in daddy's hands.
I remember daddy's hands workin' 'til they bled
Sacrificed unselfishly just to keep us all fed
If I could do things over, I'd live my life again
And never take for granted the love in daddy's hands
---
Origin of Father's Day
Father's Day is a special day to honour not only your biological fathers but also those who've been a father figure in your life. In the United States, Father's Day falls on the third Sunday in the month of June. It is believed that the idea for a "father's day" started in 1909 when Sonora Louise Smart Dodd, after hearing mass on Mother's Day, realised that fathers like her own dad, William Jackson Smart, should also be honoured.
On June 19, 1910, the first celebration of Father's Day occurred which was also the birthday of William Smart. In 1924, President Calvin Coolidge would further support this day and in 1966, President Lyndon Johnson declared that Father's Day be celebrated every third Sunday of June. Finally in 1972, President Richard Nixon made Father's Day a permanent national observance.
---
Quotes
• "A father is a banker provided by nature." -- French Proverb
• "I cannot think of any need in childhood as strong as the need for a father's protection." -- Sigmund Freud
• "Any man can be a father but it takes someone special to be a dad." -- Anne Geddes
• "Fathers, like mothers, are not born. Men grow into fathers and fathering is a very important stage in their development." - David M. Gottesman
• "One father is more than a hundred schoolmasters." - George Herbert
• "By the time a man realises that maybe his father was right, he usually has a son who thinks he's wrong." - Charles Wordsworth.