Useful manual for students of political science
Lankave Vamanshika Vyaparaya Ha Katholika Prajava
(The Leftist Movement and the Catholic Community in Sri Lanka)
A Godage publication
Author: W.T.A. Leslie Fernando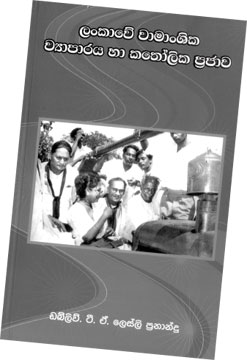 W.T.A. Leslie Fernando, former High Court Judge, has presented a critical analysis of the political history of the country from the 1930s to the present era in his Lankave Vamanshika Vyaparaya Ha Katholika Prajava. The book written in lucid Sinhala takes a realistic view of Marxism - Leninism in the country with the arrival of the leftist pioneer Philip Gunawardena, Dr. S.A. Wikremasinghe, Dr. N.M. Perera, Dr. Colvin R. de Silva and Leslie Gunawardena. The first leftist political party, the Samasamaja Party was launched on December 18, 1935 based on equality of opportunity and social justice.
It was the first genuine movement for the betterment of the downtrodden man. The ensuing chapters unfold the fantastic story of a humble but courageous Swabhasha trained school master of Negombo, Warnaklasuriya Santiago Fernando. He had a frail body but an indomitable determination. He formed a branch of the party in Negombo.
It was an era when ideologies of socialism, communism, Marxism - Leninsm were matters anathema not only to Catholics of Negombo but also to the Catholics all over the country.
He was the first Catholic to embrace "Samasamajism". He was assisted by Dr. Hector Fernando. Both of them worked indefatigably to propagate the new political party in Negombo.
Santiago Fernando contested the Negombo seat in the parliamentary elections held in 1947 and lost. How he trod the thorny road of politics is an interesting story to read. The book then deals with the formation of the Mahajana Eksath Peramuna (MEP) in 1956 under the leadership of S.W.R.D. Bandaranaike, with Philip Gunawardena and Ven. Thalpawila Seelawansa Thera. In the aftermath of the tug-of-war between the progressives and the reactionaries of the MEP Cabinet radical ministers such as Philip Gunawardena and P.H. William de Silva, left the Cabinet ruining some of the achievements in the elections. Ultimately, Prime Minister S.W.R.D. Bandaranaike was assassinated on September 26, 1959. It was followed by a gloomy period under the caretaker government headed by W. Dahanayake.
The author has mentioned the short-lived governments of March 1960 under Dudley Senanayake and the coming into power of Sirimavo Bandaranaike, the first woman Prime Minister of the world in July 1960 and her laudable achievements thereafter. A noteworthy topic is the school take over during the stewardship of Mrs. Bandaranaike. The majority of Catholics opposed the move.
The victory of President J.R. Jayewardene and President R. Premadasa are other topics handled by the author. The text makes a reference to the dawn of the country as a unitary Democratic, Socialist Republic under President Mahinda Rajapaksa, the erudite, peace-loving architect of the renowned "Mahinda Chintana." The text really is a compendium of the modern political history in Sri Lanka. It includes 37 authentic chapters running into 277 pages.
The book will be a useful manual for any university undergraduate or advanced level student offering political science as a subject.