Tagore and Sri Lanka Academic Seminar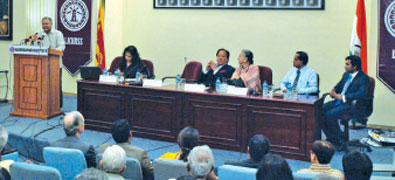 A one-day seminar on "Tagore and Sri Lanka" organised by the Indian Cultural Centre, Colombo, in association with the Lakshman Kadirgamar Institute for International Relations and Strategic Studies and the Centre for Contemporary Indian Studies, University of Colombo was held on June 12.
The seminar was organised as part of the 150th birth anniversary celebrations of Nobel laureate poet Rabindranath Tagore.
The seminar commenced with a welcome address by Asanga Abeyagoonasekera, Executive Director of Lakshman Kadirgamar Institute for International Relations and Strategic Studies.
Ashok K. Kantha, High Commissioner of India addressed the gathering. This was followed by the inaugural address by the chief guest, Dr. Sarath Amunugama, Senior Minister for International Monetary Cooperation, who emphasised the friendly relations between India and Sri Lanka and recalled that during difficult negotiations with the IMF and the World Bank, India had supported Sri Lanka. The Minister highlighted that the strong foundation of India- Sri Lanka relations was based on geographical proximity, history, common cultural space and people-to-people contact.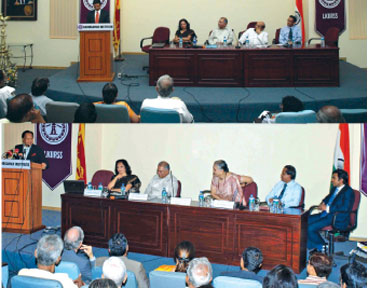 The seminar mainly focused on the travels of Tagore to Sri Lanka and the cultural linkages they served to enhance. It was divided into five sessions, including three academic sessions and the inaugural and valedictory sessions.
Eminent Indian author, historian and educationist, Prof. Bharati Ray, who is currently Vice President, Indian Council for Cultural Relations, New Delhi, delivered the keynote address titled " Through the Prism of Travel: Rabindranath Tagore's Internationalism" at the seminar.
She underlined three aspects related to Tagore, namely universalism, education and cultural exchanges. She underlined the impact of Tagore's visits to Sri Lanka which resulted in the cultural resurgence within Sri Lanka and at the same time, absorption of Kandyan and mask dances in future productions of Tagore.
The seminar was coordinated by the well-known Indian author and literary critic, Prof. Radha Chakravarty. Her presentation was mainly on Tagore's travels to Sri Lanka and the cultural inter-linkages.
The three academic sessions featured presentation of papers by prominent scholars and artists.
Dr. Sushobhan Adikary spoke on the influence of Kandyan dance on Tagore's dance–drama and Prof. K.N.O Dharmadasa spoke about the translations of Tagorean literature to Sinhala and its impact. Dr. Sandagomi Coperahewa reviewed Tagore's visits to Sri Lanka, whereas Prof. Vini Vitharana's paper was titled "Reminiscing within narrow domestic walls".
Ravibandhu Vidayapathi spoke on the influence of Tagorean dance-drama on Sri Lankan dance-theatre and Chandraguptha Thenuwara delineated Tagore's influence on Sri Lankan visual arts. Prof. Tissa Kariyawasam, in his paper, analysed Tagore as a visionary who visited Sri Lanka. Prof. Wimal Dissanayake, author and scholar from the University of Hawaii, presented a paper on the poetic humanism of Rabindranath Tagore. The valedictory address was delivered by Dr. Jagath Balasuriya, Minister of National Heritage. Dr. Radha Chakravarty, the academic coordinator of the seminar summed up the various aspects issues deliberated in the seminar. P. Kumaran, Deputy High Commissioner gave the vote of thanks. The event concluded with a beautiful rendition of Rabindra Sangeet by Charith Perera, a young and promising singer who studied music at Santiniketan.
---
New arrivals:
Sikuru Grahaya launched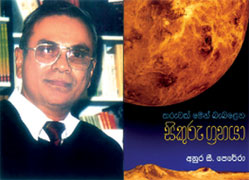 Anura C. Perera's latest book Sikuru Grahaya was launched on June 6 to coincide with the transit of Venus. A copy of the book was handed over to A.G. Wimalasiri, Senior Working Director of Maliban Biscuit Manufactories Ltd. The foreword is written by Dr. Sarath D. Gunapala, a Senior Research Scientist working for NASA in the United States.
The author is a well-known science writer.
---
Veeduru Mandira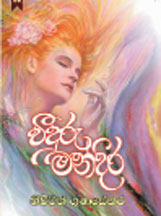 Newton Gunasekara's latest Sinhala novel Veedura Mandira was launched at the Public Library auditorium, Colombo 7 recently. Prof. J.B. Disanayaka presided over the launching ceremony. Prof. Chandrasiri Palliyaguru, Chinthana Ranasinghe and Dr. W.A. Abeysinghe addressed the meeting.
It is a Dayawansa Jayakody publication.
---
Jathiye Vimukthi Aragalaya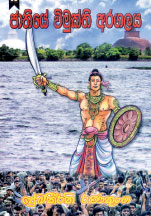 Premakeerthi Ranathunge's latest book Jathiye Vimukthi Aragalaya was launched in Colombo recently as a Dayawansa Jayakody publication.