Energy shortage hits SAARC countries except Sri Lanka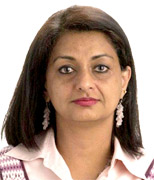 All countries in the SAARC region except Sri Lanka suffer from massive energy shortages which hamper their drive towards reaching economic development goals. One-third of the global population without access to electricity supply are from South Asia which is the poorest region in the world, World Bank Chief Economist for South Asia Kalpana Kochhar said last week.
Joining a SAARC journalism workshop in Kathmandu via video conference from Washington DC, Kochhar described the region as energy starved and the only regional bloc in the world which has no energy sharing agreements.
"Sri Lanka where 80 percent of the population has access to the national grid is the only country in the region which doesn't suffer from energy shortages.
All other countries suffer from a massive demand and supply gap in the energy sector and experience daily power cuts in varying degrees," she said.
The population that remains without electricity in the SAARC region, where the rate of electrification is only 68.5 percent, is 493 million.
Sixty percent of Indian companies rely on private electricity generation methods while industrial load shedding in Pakistan has resulted in the loss of 400,000 jobs. Power shortages have resulted in losses to the GDP in Bangladesh while the load shedding amounts to 16 per day in Nepal (expected to increase to 19 hours per day).
However, a renewed interest is being shown in the region with regard to hydro power generation with new projects being earmarked in Nepal and Bhutan. The World Bank is also working on boosting the power generation in the region, Kochhar said.
The journalism workshop on Regional Cooperation in South Asia was organised by the World Bank and the Thomson Reuters Foundation and was held over three days. Journalists representing media organisations from Sri Lanka, Pakistan, Nepal, Bangladesh, Maldives, Bhutan and Afghanistan participated.