Don Edwin de Silva:
The oldest Anandian living today
When an elderly man walked into the Sunday Observer newsroom last week many of us mistook him to be a Provincial Correspondent. Later we realised that he was Don Edwin de Silva the oldest Anandian living today.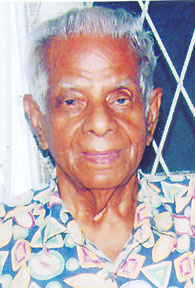 He appeared relaxed and steady despite his advanced age of 97 years.
Having received his primary education at Maliyadeva College, Kurunegala he moved to Ananda College, Colombo where he passed the London Matriculation examination.
He entered Ananda College when P. de S. Kularatne was the principal. He was a hosteller who took part in all out-door activities from his young days.
He was a champion athlete at the college and a member of the team that won the Jefferson Cup for the inter school relay.
"There were dedicated teachers such as B.J. Wijemanne, Navaratne, Karunananda and Sammy Fernando who inspired students.
After leaving school he joined the Local Government Service as a Public Health Inspector (PHI) and worked in rural areas educating villagers and children on health matters," he said.
As a PHI at Walahapitiya, Nattandiya he encouraged villagers to build toilets. He taught them the value of nutrition, "The Medical Officer of Health (MOH) was satisfied with my work. He inquired whether I needed anything. I asked for a transfer to a place closer to Colombo as I had served at Nattandiya for four years. A few weeks later I was transferred to Dehiowita.
"Thereafter, I got a transfer to Wellawa, Kurunegala after serving at Dehiowita for some time. While serving at Dehiowita he met his life partner at a concert at Ananda College.
"She was a school girl at Ananda Balika Vidyalaya in Colombo. Every year girls from Ananda Balika Vidyalaya used to visit Ananda College to perform dances and musical items and I was put in charge along with three other boys to offer refreshments to them. While serving the last piece of cake to a girl, I noticed that it was a huge piece which was not cut in half.
"I told her that she was lucky to have the biggest piece and she thanked me for that," he said.
Then he felt a strange feeling he had never experienced before.
The girl captured his heart and it was love at first sight. However, he did not know who she was.
On inquiring he came to know that she was the sister of Walter who came to the playground for practice.
He visited Colombo every now and then to meet his friends or to see films.
One Sunday he paid a visit to Walter's house where he was introduced to his father.
"I looked around and wondered where the other family members were but did not to see any one of them. A few minutes later Walter's mother arrived with his three daughters and I was so delighted to see the girl who I served a piece of cake at Ananda College. Later I came to know that mother and her daughters had returned from Kuppiyawatte temple. That was the time when I fell in love with her," he said.
Edwin was so overwhelmed by the encounter that he returned to the railway station instead of going anywhere else to catch a train to Nattandiya. Meeting his sweetheart that day left an indelible mark in his memory. Thereafter he visited her home on many occasions and started exchanging letters. While this was going on his father brought a marriage proposal which he could not refuse.
"My parents and I came to Colombo and visited the girl's home in the morning and visited Walter's home in the afternoon for tea."
While returning to Kurunegala with my parents I casually asked my mother which girl in her opinion was more suitable for me. She thought for a while and said she preferred Nanda who was Walter's sister. I told my mother that I would always abide by her decision but father did not utter a word. Father, however, insisted that horoscopes have to be matched to see whether we were compatible.
"We consulted an astrologer in Kurunegala. He told my father that Nanda was my destined partner. Thereafter, we got married," he said.
Don Edwin has two daughters who are doctors in the USA. He won scholarships from the Colombo Plan, Asia Foundation and the Japanese Government. On his return he worked as the private secretary to R. Premadasa, Junior Minister of Local Government.
After retiring from government service at the age of 55 he went to the US where he served as Assistant Director at St. Louis County's Health Department. Having worked for 32 years in the US he returned to Sri Lanka in 2002.
His wife died at the age of 80 while in the USA.