Trinity humble Royal 34-11
68th Bradby Shield first leg :
Royal had to pay dearly for fielding their half fit skipper and fly half Arshad Jamaldeen as Trinity swept to a 34 points (4 goals, 1 penalty and a drop goal) to 11 (1 try 2 penalties) win to dent Royal's unbeaten record and also take the 'first leg' of the 68th Bradby Shield rugger match at the Royal College Sports Complex grounds yesterday.
Jamaldeen usually a fine utility player who has been the key for his school success this season was completely out of colour and looked only a shadow of himself after sustaining an injury while playing against St.Joseph's .
Trinity looked a better organised outfit as they struck vital blows time and again to rattle the Reid Avenue school. Trinity are the title holders and Royal will have a gigantic task to win back the coveted Bradby Shield in their second 'leg' played in the hill capital two weeks time in Pallekelle.
Nothing sensational happened in the first half but Trinity looked extremely dangerous while in possession as their three quarter line ran the ball at every given opportunity in contrast to the Royalist with a half fit Arshad Jamaldeen struggling to find his fluency. The Royalsits won a good number of line outs with Wasim Bawa and Yasun Weerasuriya excelling.
But they could not convert the moves into points with Trinity forming a strong defence. On the other hand Trinity made use of every move that came their way running the ball with the three quarters.
Trinity opened scoring in the 5th minute via a drop goal through the boot of Tharinda Ratwatte off a second phase move which Trinity won and Ratwatte made no mistake with the twenty meter kick.
They immediately followed to increase their scoreline when winger Dharshana Udalagama touched down after scrum half Somasiri kicked the ball which was followed by Udalagama who covered good ground and dashed to score under the post for Thisila Karunathileka to give them the extra points.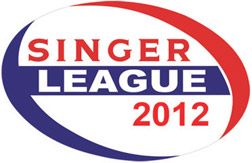 Fifteen minutes later Royal was awarded a penalty as the Trinity line was found off side and Rimzi Jamaldeen (No relative of Arshad the captain) obliged with the kick. Thisila Karunathileka made no mistake with an easy penalty and the Kandy school increased their lead 13-3. Royal scored their first try during the half way mark of the match when Eroshan de Alwis powered his way off a short tap for an unconverted try.
The winners led 13-8 at lemons. After 38 minutes of play unruly spectator threw a bottle on the playing field and referee Irshad Cader brought the game to an abrupt half for about six minutes. Trinity was leading 13-8 at this juncture. Soon after resumption a short tap was knocked on by a Royal player and they missed a probable scoring opportunity to reduce the gap.
In the 18th minute Trinity's Karunathileka produced a fine run after collecting the ball in the Royal line and covered good ground . When challenged he punted ahead picked up the ball but unfortunately could not give the finishing touches for what would have been a spectacular try if not for knocking on near the Royal goal line. However, on resumption Royal dominated the second half through their hard working forwards ,but the Trinity backs defended exceptionally well.
But Royal's lack of fitness was exposed in the last 15 minutes as Trinity off a ten meter scrum when fly half Tharinda Ratwatte sliced through the Royal defence to score near the post to give Thisila Karunathileka an easy kick at goal. (Trinity 20-8).
Royal virtually gifted a try off a penalty attempted by Thisila Karunathileka struck the cross bar and rebounded and as Royal fialed to touch down in defence winger Dharshana Udalagama was there in a flash to get his hand to the ball in the in-goal area. Karunathileka made a fine conversion.
Trinity 27-8) Five minutes before the final whistle substitute winger Shanthana Sheik put the finishing touches to a fine three quarter move by scoring by the corner flag, Karunathileka added the extra points withm a fine kick.
In the dying stages of the game the Royalists reduced the deficit when Rimzi Jamaldeen fired across a 25 meter penalty.
Referee: Irshad Cader.