Duncan White, Susanthika – only medallists in 116-year-old history:
Seven Sri Lankans at London 2012 Olympic Games
OLYMPICS: Seven Sri Lanka sportsmen and women will be seen in action at the forthcoming Olympic Games in London.
Four of them - marathon runner Anuradha Indrajith Cooray, shooter Mangala Samarakoon, shuttlers Niluka Karunaratne and Thilini Jayasinghe have made direct qualification on merit while three others, including two swimmers, have made it to the 2012 London Olympics through universality placing, formally known as wild card system.
Long distance runner Cooray is the most senior member of the Sri Lanka contingent, having competed at the 2004 Olympic Games in Athens, Greece.
The only other member of the Sri Lanka contingent with previous Olympic experience is former national champion and three-time South Asian Games silver medallist Jayasinghe, who in 2008 became the first ever Sri Lanka woman shuttler to compete at Olympic Games.
Sri Lanka contingent will have the luxury of several overseas based players, including swimmers Heshan Unamboowe and swimmer Reshika Udugampola who have been training in Australia.
Backstroke specialist Unamboowe , a recipient of an Olympic Solidarity Scholarship awarded by the National Olympic Committee of Sri Lanka, has been training at the Nunawading Swimming Club in Melbourne. His performances at the 14th FINA World Championships led them to an invite by FINA to compete at the Olympic Games on universality places.
Former women's 100m freestyle national champion Udugampola too has been training in Melbourne and is determined to better her personal best in London. The world swimming
governing body FINA considered her performance at the 14th FINA World Championships in allocating her a slot for the London Games under its universal placing system.
Cooray – age no barrier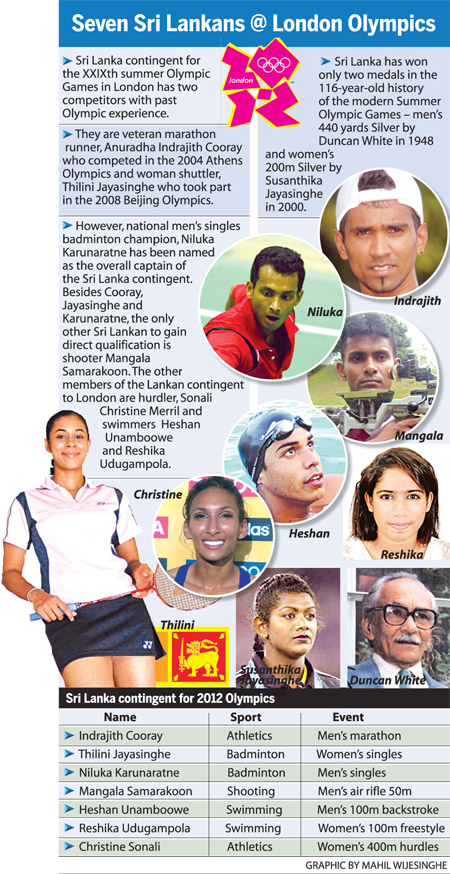 Veteran marathon runner Cooray has proved that age is no barrier for his endurance in long distance running in making a direct qualification for London Olympics after clocking 2:17.50 at the London Marathon three months ago.
Making his is Olympic debut in Athens eight years ago, Cooray clocked two hours, 19 minutes and 24 second to finish 30th out of 113 competitors at the 2004 Athens Games. He has also won the South Asian Games marathon gold medal in Pakistan 2004.
Coo ray's recently to Olympic marathon brings back memories of the late K.A. Karunaratne, who represented Sri Lanka at the 1992 Olympic Games in Barcelona. He has been residing in Buckinghamshire, UK on a training and competition stint with the Vale of Aylesbury Athletic Club.
Karunaratne – first to qualify
Undisputed men's singles badminton champion Karunaratne was among the first to qualify for the London Olympics, to emulate the feats of Niroshan Wijekoon who competed at the 1992 Olympics. Karunaratne is currently ranked 30th out of 38 in the men's category which assured him of a place in the men's singles at the London Games.
Besides Karunaratne, Jayasinghe and Cooray, the only other Sri Lanka to make direct qualification to 2012 London Olympics is Samarakoon of the Sri Lanka Army in men's rifle shooting. South Asian Shooting Championship gold medallist Samarakoon has also won a gold medal at the 2006 South Asian Games in men's 50m prone event with a record score. He narrowly missed a medal at the 16th Asian Games in Guangzhou 2010, where he finished fourth in his pet event.
Though athletes had taken a major portion of Sri Lanka contingents for previous Olympic Games, there are only two Lankan athletes who will be seen in action at the London Games. Besides Cooray, woman sprinter Sonali Christine Merril has been granted a wild card entry to run in women's 400m hurdles.
The 23-year-old US-based Lankan hurdler has shown impressive form in recent times. She made her Sri Lanka debut at the 2011 IAAF World Championships in Daegu, South Korea. She was introduced to Sri Lanka athletics by former AASL President Major General Palitha Fernando in a worldwide talent search of Sri Lankan migrants.
She came to limelight early last year when she established a new Sri Lanka national record in women's 400m hurdles at the 53rd annual Mount Sac Championship at the Hilmer Lodge Stadium in Walnut, California.
In July last year, she bagged the bronze medal in the women's 400m hurdles at the Asian Athletic Championship in Kobe, Japan, clocking 57.30 seconds.
In the 116-year old history of Olympic Games, only two Sri Lankans have won medals – both silver medals. Men's 440 yards runner Duncan White accounted for Sri Lanka's first ever medal at Olympic Games when he finished second at the 1948 London Games.
Celebrated woman sprinter Susanthika Jayasinghe ended Sri Lanka's 52-year-old lean run without a single Olympic medal when she finished third in women's 200m at the Sydney 2000 Games in Australia. When the eventual gold medallist Marion Jones of the USA was stripped off her medal after being positive for banned steroids, Jayasinghe's bronze was subsequently elevated to a silver medal to equal the feat of White.