Construction work resumes on Hyatt Regency
Sinolanka Hotel and Spa (Pvt) Ltd, the new public-private partnership re-launched the construction of Hyatt Regency Colombo hotel.
A spokesman for the hotel said, "It will be the most modern hotel as well as the tallest building in Colombo city".
Chairman, Gamini Senarath said that Hyatt Regency, Colombo would add 475 hotel rooms to cater to the growing tourism sector and increasing demand in the city.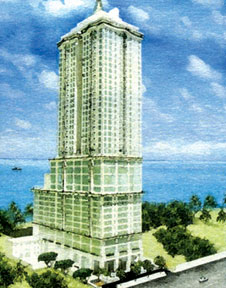 Over the last 30 years not a single modern hotel has been constructed in Colombo and as a result there is a scarcity of hotel rooms.
The 42-storeyed hotel complex consists of 90 luxury residential suits, swimming pools, restaurants, conference halls and all other facilities.
The project will be completed and commissioned by September 2013 and the residential suits will be completed by 2014 August. Sinolanka Hotel and Spa will make Colombo an attractive city for tourists, he said. With 475 hotel rooms Hyatt Regency will be the biggest hotel in Colombo. The minimum floor area of a hotel room is 38 sq.m.
Special restaurants will be opened on the 30th floor while swimming pools and club houses will be on the 42nd and 43rd floors. Hyatt Regency will be a hotel with 54 percent of residential suits the highest in the Colombo city while the rate is less than 7 percent in other hotels", project consultant, Hirantha Silva said. A private sector company launched this hotel project in 2003 on state land under a long-term leasing agreement.
According to the plan, the project was to be completed by 2008. But due to a financial crisis, construction work was halted and the project came to standstill.
In November 2011, the Government acquired the project under the Under-performing and Under-utilised Private Enterprises Act. The new project has been registered as a BOI approved project and is entitled for tax relief and other investment support.
It is also recognised as a strategically important project under the Ministry of Economic Development, which will remove many bureaucratic bottlenecks.
Sinolanka Hotel and Spa (Pvt) Ltd has obtained the property on a 99 year long-term lease and the state-owned Sri Lanka Insurance Company is the local partner representing the state sector with a Rs. 20b investment.
Already 15 floors of the building have been completed and Maga Engineering is doing construction work. Minister of Economic Development, Basil Rajapaksa and Secretary to the Ministry of Defence and Urban Development, Gotabaya Rajapaksa participated. Hyatt Regency is one of the leading international hotel chains based in Hong Kong with around 480 hotels.
- GW