Exhibition showcases language of sculpture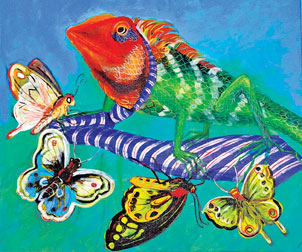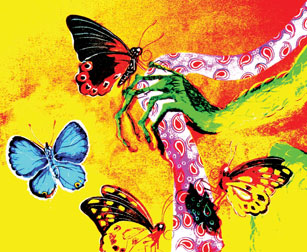 Benan Selami is a young woman ready to face any challenges for the sake of her artistic creations. What she seeks in her path is how to present materials and objects through the language of sculpture. She presented her talents of sculpture recently through the exhibition she did in collaboration with Anusha Gajaweera, a young Sri Lankan artist who has already proven his talents in painting and sculpture. Here are experts of the interview the Sunday Observer had with the young talented artistes about their artistic careers.
Q: What type of artist would you consider yourself to be?
A: "I am a 'plastic' artist in a broad sense, I confront myself physically with materials and I model a three dimensional art. I am a sculptor in the real sense. I think of all of the forms and of the space these forms will occupy. The gesture, the fingers and touch are important in my communication with the reality and the imagination," she said.
"Last year I was involved with Vibhavi Fine Art Academy to learn more about sculpture and contemporary arts. At Vibhavi I worked with Anusha Gajaweera and we had a good connection and enthusiasm to introduce new methodologies in contemporary art. He invited me to exhibit my talents in sculpture together with his talents in painting. I was glad because it is a great opportunity to not only exhibit our talents in different art fields but to showcase the combination of two different cultures in two different countries," she said.
"My origin is French and I was born in Turkey but I lived more than 12 years of my childhood in Middle East countries. So I understand about different cultures. Being in many Western as well as Asian countries, most of the times I felt Westerners are not giving appropriate space or recognition for Easterners art mainly because of the cultural barrier. Being in both cultural backgrounds, I like Eastern culture a lot, because for me Western culture is more rational which always tries to understand things in a more logical way.
"As I believe, there can be many aspects in human lives and cultures which cannot be proven or understood logically but there can be many other ways of feeling it which is common in Eastern cultures. In my work in sculpture, most of the times I tried to recreate historical contexts which suit today's atmosphere."
"This is my third visit to Sri Lanka. I like Sri Lankan culture and traditions which I feel very familiar with compared to other Eastern countries where I have been before.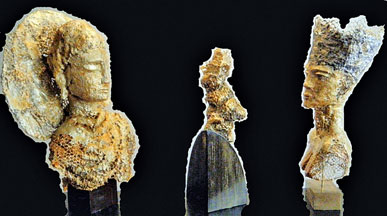 "This is the first exhibition I held in Sri Lanka. Before that I did a sculpture exhibition early this year in Paris. "When talking about Anusha, we used to call him Anusha Salvador because his paintings are very much closer for the work which was done by Sulvador Dali who is a Surrealist artiste. The message of his paintings is quite powerful and as I feel he always tries to criticise or question about the existing political realities not only in Sri Lanka but which is also common around the world. I really like his work and the metaphors that he used in his arts. I have never seen such earler in Western artists. I believe I'm a passionate artiste and I do get the inspiration for art from my surroundings. I got a lot of inspiration for my artistic career during the stay in Sri Lanka and as gratitude for the wonderful culture and people I wanted to hold an exhibition in Sri Lanka in collaboration with my friend Anusha," she said.
Anusha Gajaweera is a painter and sculptor. He is a visiting lecturer in many state universities including the Faculty of Architecture, University of Moratuwa.
Throughout his artistic career he exhibited his artistic work in many local and international group exhibitions and won several awards and recognition for his work including the award for Environmental Day AEPO Asian Environmental Organisation, Sri Lanka and Japan.
"Benan and I had a good relationship even after she went back to her country, after she completed the studies in Vibhavi Fine Art Academy, he said.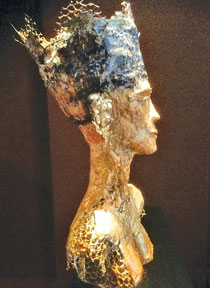 "With the enormous support I got from Benan we organised the exhibition within two months.
"Through my paintings I always try to convey the socio- political idea that I have towards the society. It is not that I try to express vanguard ideas or criticise the existing socio-political realities of the society, rather to humiliate it. I use 'the tie' as a metaphor in all the paintings which I exhibit.
"The tie is not related to our culture but as most of the authority systems which came to our society and got established during the colonial period; tie is also one of them.
"Even though after the colonial period, we are still ruled by the authorities' that established during that era and we have forgotten that fact and tend to believe we are a free nation and liberated country.
"Therefore, I use the tie as a metaphor in every painting as I believe it generates a strong idea. Salvador Dali is one of the painters I really got inspired by and I like his painting which has surrealism artistic trend," he said.
"Today there are many artistes who use different mediums of art to express their political viewpoints without giving attention to artistic taste.
"Though I too try to express my political ideology through my paintings, I believe those who don't understand or are not interested in politics can still enjoy my paintings because I have tried my best to maintain the artistic taste on my paintings," he said.