"Sa" completes 39th year:
Victor Ratnayaka's songs reverberate through the music world
It ended just where it had started thirty nine-years back - at Lumbani Theatre in 1973. Victor Ratnayaka's Sa performance with its own quotient of stylistic excellence continues to sustain its broad appeal though it marked its dramatic finale at the Nelum Pokuna Mahinda Rajapaksa Theatre and Lumbani Theatre.
In the simplest phraseology, Victor Rathnayaka is a singer with a natural command of melody and his music is melodically planned in the minutest detail. A mere play of his fingers among the keys on his cherished harmonium has the potential to produce tuneful melodies within minutes.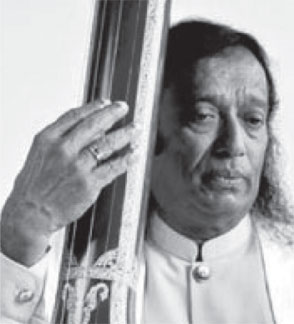 Victor Ratnayaka's music and voice are clearly intended to appeal to various sides of public taste and he has a sense of style that is very much his own. The Sa performance saw the light of day in 1973 at the Lumbani Theatre. As he had been well established in the music arena with his own impressive repertoire of hits, he was ready for such a solo performance.
His songs captured the spirit of a wide spectrum of fans when he staged his fiftieth Sa performance at BMICH as the first show in it.
The massive strength behind the musical enterprise was the collective spirit of Sunil Ariyarathne, K.D.K. Dharmawardhana, Premakeerthi de Alwis, R. R. Samarakoon and many others. They proposed Sa, the first note of musical octave as the title for the show.
In more than forty Sa performances on foreign tours, he enjoyed widespread respect and popularity as a towering musician among Sri Lankans living abroad. His first performance in the Maldives in 1978 and the last live performance in Australia well demonstrate the level of international recognition offered to the show.
The uniqueness of 'Sa'
Since 1970s, Victor Ratnayaka's Sa never faded into insignificance against any growing trend of music but positively inspired the minds of an audience held spellbound.
His songs ranged over folk music, popular music and classical music and nourished (and still does!) the mind of the fan in tune of his philosophy of music. Victor Ratnayaka possesses the rare ability to facially interpret what he sings and he is fairly confident of his success at it. In the course of his singing, his voice and face carefully projects and sensitivity of the words sung in so much as to keep the listener absolutely mesmerised.
The 'Sa' performance has long entertained almost three generations and completes the thirty ninth year in 2012. The show comprises his masterpieces that are products of both eastern and western musical styles.
As the show completed the thirty ninth year on July 20 this year, maestro Victor Ratnayaka called a sad finale to the "Sa' performance that brought out a legacy of piquantly novel songs to Sinhala music.
However, stopping such an exceptional show is invariably a national loss against the drop of increasing mishandling of music in Sri Lanka at this moment.
How ever, Victor Ratnayaka's departure from Sa is justifiable on the ground that frailties of age debar him from proper singing.
The popular hits such as Thani Tharuwe, Sihil Sulan Relle, Soka Senasum, Miyuru Kalpana added beautiful colour to the show.
This made fans of Victor Ratnayaka believe that the Sa performance was the "spring" of Sinhala music. Today his fans seem to have been distracted by his sudden declaration of the end of Sa performance at the climax of its popularity.
The attraction of Sa rests largely on beautiful melodies and the variety of themes which range over love, patriotism, childhood, and a mother's love. The variety of the performance inevitably compels one to watch it over and over again.
It appears fair to say that he was the legend of youth. His songs were a classic blend of light music and classical music - an interface between musical tradition upheld by H.R. Jothipala and that used by W.D. Amaradeva in a transitional period of music.
By this time W.D. Amaradeva and Nanda Malini were staging "Shravanaradhana", a joint performance which had earned unmistakable success and popularity throughout the country. Victor Ratnayaka's friend suggested to him to mount a solo performance with the best hits called from his popular repertoire influencing the musical ethos of the country.
This was the birth of Sa
He has composed music for popular films such as Mataraachchi, Thavalama, Hulawai, and Sarungale. Moreover Victor Ratnayaka has sung nearly hundred songs for the screen but adequate appraisal for them has not been made.
Victor Ratnayaka's close association with Premasiri Khemadasa was a historic occurrence that produced best creations. During this time, Khemadasa was conducting a music class named, Sangeetha Manjari at Maradana. At Sangeetha Manjari, Victor Rathnayaka enriched his music with the company of Premasiri Khemadasa, Sunil Ariyarathne, Thilakarathna Kuruwita Bandara. He even sang for Khemadasa's Sithijaya (Horizon) and opera which incorporated Sanath Nandasiri, Nanda Malini, and Sunil Ariyarathna.
On the other hand, Victor Ratnayaka made a significant breakthrough over Radio. Some musical programs produced by G. S. B. Rani Perera exclusively featured Victor's melodies and Sunil Ariyarathna's lyrics. As the program producer in SLBC, G.S.B. Rani Perera brought out novel programs such as Geetha Tharangani and Jana Prasadini which gave immense publicity to Victor Ratnayaka's songs such as Thotupala aine etc.
He is an excellent music director - a truth made clear by the songs of films such as Sarungale and Siribo Ayya etc.
In Jaffna
In 1976, Prof. Sunil Ariyarathna, Prof. Sucharitha Gamlath and Dr. Dharmasena Pathiraja invited Victor Ratnayaka for a Sa performance at the "Weerasinham Hall" in Jaffna.
There Prof. Sucharitha Gamlath made the comment - " A cultural messenger has arrived in Jaffna".
The response to Sa from the Tamils of Jaffna was really tremendous because they had not watched a performance of such merit and perfection before.
Announcing the decision to discontinue Sa performance, Victor Ratnayaka says, as an artist I am perfectly satisfied because I have lavishly supported other artistes with my melodies. I did not exploit my creativity to bring reputation and public praise for myself alone. There I am satisfied.
I have enjoyed a surprising response from my fans not only in Sri Lanka but also in other countries. I feel that I am rather incapable of performing the same way I performed at the first show now.
Therefore it is most sensible to stop singing because my age (71) cannot bear up the pressure of a solo performance. However, I will contribute my best in directing and composing music in future. July 20 marks the end of Sa performance but not Victor Rathnayaka's contribution to music..."
Unfortunately, the future generation will miss the superbly organised performance that has already been staged 1450 times and enjoyed by three generations.