Colourful shrub frog rediscovered
This bright green beauty has intermittent pinkish white spots on its head (dorsal part) and on its back prominent pinkish white spots outlined in dark brown on bright green, intermittent with smaller blurred dark brown blotches. An alien? Not at all. This is fine art piece painted by Mother Nature and that did not meet a human eye for nearly 157 years.
On a misty foggy day in the wilderness of the Sripada,the Peak Wilderness Sanctuary in the Central Province of Sri Lanka, a group of researchers lead by one of Sri Lanka's leading herpetologists Mendis Wickramasinghe, rediscovered this shrub frog 'Pseudophilautus stellatus'. This rediscovery brings glory to our island nation which is ironically a world renowned biodiversity hot spot. In describing the shrub frog the researchers say that these animals "were found to be highly seasonal, and very rare."
For all these years this colourful shrub frog has kept its existence a secret hidden behind the thick foliage of tropical forests. After an extensive survey of amphibians in Sri Lanka from 1994-2003, this shrub frog's status was confirmed to be extinct, according to the scientific article written on the rediscovery by the research group.
For this fact the research group quotes the findings of another two leading researchers of the country, Kelum Manamendra-Arachchi and Rohan Pethiyagoda. Accordingly, since the first discovery of this species not a single specimen was recorded by them from approximately 350 locations.
"Pethiyagoda and Manamendra-Arachchi further state that they were not able to record any specimen of the said size range of 57 mm from Nuwara Eliya, and given that just 4.7 percent of former rainforests remain and a massive extirpation of restricted-range species would likely have occurred, therefore concluding that the species although extinct is a valid species," states the research group.
Pseudophilautus stellatus was the first shrub frog described from Sri Lanka, according to the data collected by the researchers. As the group states in the publication, the species was first described by Kelaart in 1853, based on a single specimen and with a very vague description which however mentioned several diagnostic features not observed in other Sri Lankan frogs.
No living 'Pseudophilautus stellatus' was documented by scientists from the country since then. As mentioned by Kelaart in his description in 1853 'Pseudophilautus stellatus' was found from 'Nuwera-Eliya'.
As Mendis Wickramasinghe explained Sri Lanka being a global amphibian hotspot, claims to have the highest number of extinct amphibians, which numbers 20 species according to surveys and researches done by local and foreign conservationists and zoologists since 1998 till the recent past. In 2012 Wickramasignhe and his group rediscovered 'Adenomas kandianus', the Kandyan Dwarf toad reported after years and which was first recorded by GŁnther in 1872.
Accordingly a total of 34 species have so far been declared as extinct globally. "The sudden steep rise in the number of amphibian species known from Sri Lanka, within a very short period of time, is due to the increased amount of surveys being carried out on the island."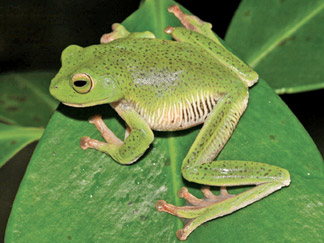 A systematic survey was carried out over a two-year period, in order to document the amphibian diversity across an elevation gradient (550 m to 2240 m), in the Sripada massif, a part of the Central Hills World Heritage Site in the peak wilderness. Surveys focused on terrain where not much light has been shed by scientists, due to difficulty in accessing these sites owing to harsh weather conditions and tough trails, explained Wickramasighe in the article published on this rediscovery.
The researchers have found out that among the most important threats noted in this region where the shrub frog was found, is the forest dieback phenomena possibly due to pollution and/or climate change, which has never been documented in this region before.
With the decrease in canopy cover and alien invasive species widely spread in lower areas and is slowly spreading to higher elevations can potentially become a threat in the future. The Peak Wilderness is now under severe anthropogenic pressure, because of its religious importance, and is visited every year by a large number of pilgrims who pollute the environment there, especially the streams, said the researchers further explaining the threats that continue to happen in Sri Pada.
A large amount of garbage gets collected, and the natural forest gets overexploited. According to observations by Wickramasinghe and his team illegal gem mining on either sides of the riverbank within the forest has become another potential threat to the amphibian diversity.
And they have observed that the tea plantations in the surrounding areas are slowly expanding and illegal tree felling to cultivate tea, has become a major threat in the area. To protect the bio-diversity of our nation there is a dire need of attention from authorities in properly managing the interactions between humans and the uniqueness of the environment. The new material discussed in this paper has been deposited in the National Museum Sri Lanka and at the Giritale National Wildlife Research and Training Centre of the Department of Wildlife Conservation.