Top safety measures vital to avert disasters
In 1984 December, the world experienced the worst industrial disaster in Bhopal in Madhya Pradesh India. On December 3, 1984, methyl isocyanate gas leaked from the facility during the early hours of the morning while local residents slept. This is cited as one of the chemical industry's greatest tragedies. The loss of lives of innocent people can never be valued and treating and compensating affected communities would have cost hundred times more than the actual profit of the business and the benefit to the country in economic development.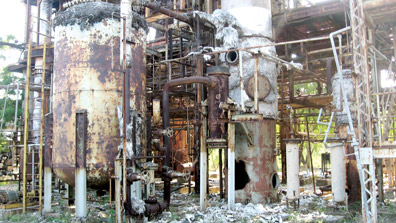 A deteriorating section of the chemical plant in Bhopal, India
The Bhopal Gas Tragedy Relief and Rehabilitation Department under the Government of Madhya Pradesh State describing the disaster said, "On the morning of December, 3, the whole world learnt about the holocaust in shocked disbelief".
The tragedy took an immediate toll of about 3,000 lives and left thousands and thousands of citizens physically impaired or affected in various degrees. Livestock were killed, injured and infected. Business was interrupted. Environment was polluted and the ecology affected with flora and fauna disturbed. Such was the enormity of the tragedy that all available instruments in the field of health care, administration and law were found to be inadequate." Early in 1985, the Department of Bhopal Gas Tragedy Relief and Rehabilitation was created under the charge of the Chief Minister to undertake the colossal task of relief and rehabilitation.
In addition to all aids and assistance, monetary and otherwise, that underwent to recover communities and environment the Indian Government in 2010, with the approval of the Union Cabinet extended a 12,650 million Indian rupees aid package that was funded by Indian taxpayers through the government. Though homes and streets which the disaster made desolate, once again hum with activity there still stands needs among people and the environment in their recovery process.
Since then the entire world has been giving focus to strengthen the existing disaster management systems in a chemical disaster and countries that lacked such a system initiated programs to find the most suitable way to be safe. Sri Lanka, without a broad network of based on chemicals, never really felt the need of a safety measure in a chemical/gas accident. Chemical accidents are all time possible whereever chemicals are transported, stored or used. Efforts to prevent accidents range from improved safety systems to fundamental changes in chemical use and manufacture, referred to as primary prevention or inherent safety.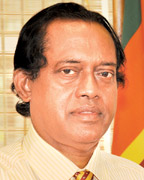 Wimal Rubasinghe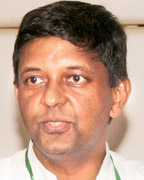 Prof. Ajith de Alwis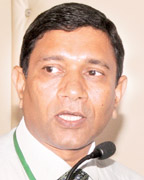 Dr. Sanjaya Rathnayake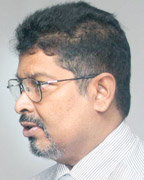 K.H. Muthukudaarachchi
At present with many attempts taking place to economically develop the country, we need to be open to various industries. Parallel to these efforts the country at present is in the need for a solid mechanism to manage a chemical disaster, guiding the industrialists as well as protect the people and environment. Thus, to suit the fast growing industrial nature of the country, the Central Environment Authority has taken an initiative to set up such a disaster management system before the country is loomed with chemical industries.
According to the Central Environment Authority, a number of chemical industries have applied for the Environment Impact Assessment reports as well as to other relevant documents to get approval to start their industries. "This is a high time for Sri Lanka to look into this subject as many industries are coming to Sri Lanka. Many of these industries come with hazardous chemicals. Already we have a list of nine massive industries some are to be set up in and around the Hambantota Port," said the present Acting Director General of the CEA K.H. Muthukudaarachchi.
As Muthukudaarachchi said, to give a green light to these industries the country needs to be prepared to manage chemical hazards and should be armed with hazardous waste disposal sites and without these the authorities can not approve these industries.
The Government cannot keep on denying these industries because the legal and infrastructure frame work in insufficient.
"So we have to start up with establishing a proper base in order to control the possible disasters that could happen with hazardous waste," Muthukudaarachchi said.
In that sense the Task Force established under the CEA to establish a disaster management strategy in its initial stages are establishing a list of existing chemical industries. The CEA is requesting management of such institutes to establish proper disposal sites and hazardous waste management programs.
Establishing a proper disaster management framework is a ten month project implemented under the CEA funded by the United Nations Environment Program. "The Task Force will come up with a country situation report and an assessment - thus understanding what kind of assistance we need to establish," he said.
Director of the Environment Pollution Control Division of the CEA Dr. Sanjaya Rathnayake said that Sri Lanka, to continue with massive scale chemical industries, need to include new provisions in the legal frame work and establish necessary infrastructure. "Similar programs have been established in Philippines and Cambodia and we are hoping to exchange their experience in this as well," Rathnayake said.
As Chairman of the CEA Wimal Rubasinghe said these strategies work hand in hand with the assistance of the people as well. "The Government vision is to have a clean, environment friendly country while developing as a country. The law is there to take action against those who pollute and harm the environment and the people. What we need is more and more public support in reporting, complaining to us about such polluters in addition to our network established island wide," Rubasinghe said.
While the public attention is crucial we as an institute need to be more vigilant too, he said. "I have worked as an Assistant Government Agent for nearly 16 years and with my experience the CEA officers at the regional level can do a far more better job," he said. "Actually it is our officers who should get the information first at any environment issue - be it pollution, or red rain. Our officers do a lot of work at the ground level but there are lapses at certain instances due to many reasons. So at present we are looking deep into this problem and trying to set up an efficient system," Rubasinghe said.
As the country is now targeting a 100 billion dollar economy while attempting to double the per capita income, we should give a serious thought on a mode to generate money to meet this demand and obviously we have to go for a broader spectrum of industries, said Prof Ajith de Alwis of Department of Chemical & Process Engineering, University of Moratuwa.
"So depending purely on tea and tourism are not going to get us there. We need manufacturing in strategic areas which will benefit the country. Because there are a lot of material that can convert to value added goods. Using many resources available with us like nanotechnology we have a wide opportunity to create adding value to local manufacturing goods and really capturing a fare share of the market then driving the growth in a system," Prof. de Alwis said.
Best practices
"When we try to economically develop what happens is that manufacturing facilities will come in to the country. Then the question is if an accident happens in these industries are we ready?" he said. "If an accident happens in such an industry the country will be at a total loss. Because we will not be having many chemical plants - with the capacity of the country may be only one or two plants. An accident in one plant means we are falling way down from our great ideologies in economic development. We cannot afford such accidents taking place in the country. Social, economic and environment costs all come with such a disaster. So as a result preparedness is the best way forward," he said.
As Prof. De Alwis said, preparedness shows the country how best the industrial activities should be carried out being safe from the inception. "Being safe from the initial stages the country and industrialists can concentrate on activities to develop the industry rather focusing on managing accidents and disasters every day," he said.
For the moment, Sri Lanka does not have mega factories operating, yet we hear a few instances of chemical accidents and pollution - i.e. some deaths, fires and explosions. These places can face accidents over silly moves. If we are having accidents in premises of those industrial institutes at this level that means our preparedness is low. We are not really ready and our attitude and discipline is low, according to Prof. de Alwis. We as a country still do not pay detail attention on how to make these industrial places safe.
"We don't have adopted best practices, standard operating procedures, wearing safety equipment. When someone wears safety attire it depicts that he or she is making other people safe too. If one person does not take precautionary measures it will not only harm that individual but will badly affect people around and fellow workers," he said. When the attitude, discipline of the people change the type of bad behaviour among people causing pollution can also change. Bad practices have to move out. So that is why we are trying to promote internationally accepted standards for the institutes, according to him. As Prof. De Alwis said if the country is going towards a different intensity of industries we really need to up-scale our approach to these developments. That is an imperative. We need to change our attitudes and disciplines. And build capacities in the system and probably change the industry landscape to realise the benefit.