New international airport will create multiple opportunities
The Mattala International Airport is a commercially and economically viable project and the $ 210 million it cost, can be recovered in 10 years, said Senior Lecturer, Department of Economics of the University of Colombo, Dr. Ranjith Bandara responding to negative arguments about the second international airport in Sri Lanka.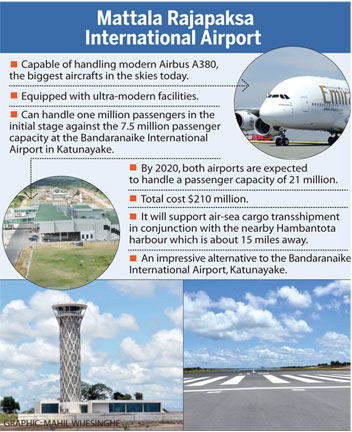 Some critics argued that it was not a priority at present. Dr. Bandara said that development priorities of a country depend on the development strategies of the government. Today development is a challenge and it is clear that growth cannot be achieved by only pushing agriculture and industrial sectors. Therefore, the service sector should contribute the most and accordingly, the second international airport was a development priority. It should have been constructed long ago.
This is an urgent need with the growing tourism industry and we have to develop infrastructure to facilitate growth. On the other hand, this airport and the Hambantota port and other infrastructure facilities that have already been developed in the area will open huge opportunities for industries.
"We can expect new investments in this region in the future. The airport is not only for the landing of passenger aircraft. It will create multiple opportunities. Poverty cannot be reduced by providing subsidies forever and the government should create opportunities to reduce poverty.
Mega projects of this nature will create these opportunities," he said.The airport was constructed with a $ 210 million commercial loan from China.
Dr. Bandara said that Sri Lanka should not forgo any opportunity it gets to develop the country. "We have limited resources and in project financing we have to go for foreign sources. Today as a middle-income country we have limited access to concessionary loans."
Interest rates of commercial loans cannot be classified as high or low without looking at the viability of the project. This project is commercially and economically viable. Responding to criticism of slow progress in commercial activities at the Hambantota port, he said that it will take time, not days or weeks but several years to reach full capacity. It is the nature of such a large project. There is a satisfactory progress and now huge opportunities are opening there, he said.
The president of National Chamber of Commerce of Sri Lanka, Ashoka Hettigoda said that opening the second international airport clearly indicates that the country is reaching developed-nation status. This also indicates the government's commitment to reduce regional disparity and develop all parts of the country.'-GW