Aunt and niece burnt to death
In a village in Alenkerni, Kinniya bustling with people who shared their happiness and sadness with one another a tragedy of inconceivable proportions occurred.
Machchunadran Vijerani resided in Alankerni. She came from a poor family and was never discouraged in the face of hardship and even with the monotonous daily chores she had to engage in, she did not have high expectations. The poor damsel encountered many hardships and so decided to marry a labourer at a very young age."I will be happy when I get married and have children of my own" was what Vijerani thought. She found a suitable partner in Pulle who was willing to marry her. The two of them tied the knot in a simple ceremony and then began to live as man and wife.
Vijerani and her husband lived happily after marriage, ignoring the many hardships they faced. The two of them adjusted to one another and led a peaceful life. Pulle did not neglect his responsibilities towards his wife. He tried to please her in any way that he possibly could. Similarly, Vijerani supported her husband in all his hard work in every possible way without causing any problem. There were many days when they survived with just a single meal and with no one to help them they carried on regardless.
Children
However, after marriage Vijerani nurtured the hope that she would conceive and bear children for Pulle. But destiny had other plans in store for her despite exploring many avenues, the couple did not have children for a long period. They sought medical advice and when that did not work out they engaged in meritorious acts and sought divine intervention to help them to have a child but all to no avail. Since Vijerani was longing to have a child she suggested to her husband that the only alternative was to adopt a child but Pulle was not in favour and on this occasion vehemently refused her request.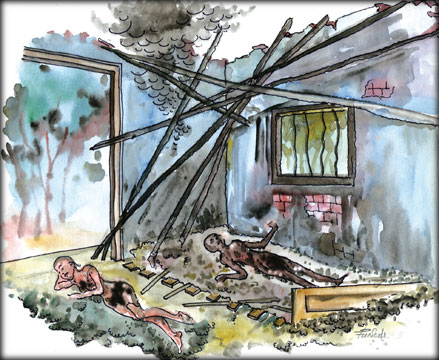 "I don't want to adopt a child and put him in misery because the two of us are finding it difficult to make ends meet. How can we adopt a child and put him also through this same misery?", he queried. All was then quiet at home and life went on as usual.
Hooting
Suddenly, tragedy struck a few weeks ago when Vijerani woke up in a sweat after hearing an owl hooting in the distance perched on the top of a coconut tree in front of her compound. Vijerani did not have to spend a long time wracking her brain as to what bad omen the screech of the owl signified, when she came to know of her husband's sudden death.
The premature death by natural causes of her husband brought untold misery to Vijerani. She was heartbroken and inconsolable. Vijerani could not bear the sudden demise of her husband. She did not know what to do and to whom to turn now that the love of her life had been snatched away.
However, she understood the uncertainties of life. She did not give up her courage to live and made up her mind to continue with her life.
She did not brood over her husband's demise. She carried on until she came to a breaking point and found that she could not live a lonely life any more. "What is going to befall me?" was her constant thought. Sometimes in her loneliness she carried on a conversation with her dead husband and relieved her loneliness. "How can I go on living alone? I have to do something about this and try to carry on. Will you help me through my loneliness and my misery."
"Vijerani was asking her dead husband when Vijerani thought of inviting Machundran Janani a niece, a young girl to live with her and share her life.The aunt and niece were living together.
Her niece had decided to live with her aunty and ease her aunt's sorrow, since the aunt and uncle had no children she brought immense happiness to Vijerani.
Chores
The two of them were living quite happily with the niece helping Vijerani in her household chores.
All was quiet in Alenkerni when suddenly out of the blues villagers noticed smoke billowing out of Vijerani's house.
Pandemonium broke out and the villagers began to run helter skelter when they realised that the house was burnt to the ground with the two inmates. Neighbours said they did not hear anything untoward between the aunt and niece.
They were of the view that the two of them got on well.
They led a peaceful life and that they had not heard a bad word being exchanged between Virjerani and Janani. Then what was the case of this tragedy to befall on them was what was on everyone's mind.
Mystery surrounds the death of the two inmates and how their house was gutted. Foul play has not been ruled out and other possibilities too were being investigated, police said.
The Kinniya police has not ruled out foul play nor have they rushed into any conclusion on what really happened on that fateful day.
The police are following several clues in their pursuit to ascertain what really happened and are vigilant to find out as to who was responsible for the tragic incident.
Janani had somewhat eased Vijerani's loneliness and by living with her niece. She lived with a lot of expectations for her niece. Vijerani had promised her niece all that she had. Janani too was overjoyed with her aunt's promise and looked after her well. It was in this backdrop that the police are carrying out investigations.
On being intimated of the tragedy, OIC of the Kinniya police, IP Akila Ranasinghe and his officers rushed to the scene where they saw the bodies of Vijerani and Janani as well as their burnt house.
Interest
The police said that they could not arrest anyone on suspicion until they receive the report from the Government Analyst. Neighbours, however, said Vijerani lent money to some people on interest and she had earned a lot of money from these transactions.
Police said they were exploring all avenues to ascertain whether it was a case of homicide, arson or negligence which had led to the deaths of the two women.