NDB to revive handloom industry
The NDB recently initiated a program to rebuild the defunct handloom textile industry. The pilot project of a long-term development program was launched in Kuleegama, Divulapititya in the Gampaha district which was once renowned for its handloom products.
NDB with the Department of Textile Industries and the Divisional Secretariat of Divulapitiya will support skilled weavers in the village, who have been away from the industry since 2002, to resume manufacturing.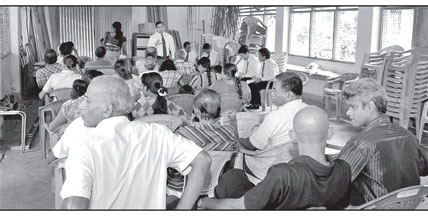 The initial meeting organised by NDB with representatives of the Department of Textiles and the Divisional Secretariat officials was attended by over 30 manufacturers.
NDB will meet the capital expenditure for the initial setting up of enterprises including purchase of weaving machines and raw material and also fill working capital gaps at the latter stages of production.
The Bank and Department of Textiles will provide continuous guidance and training on enterprise management, marketing and distribution and technical skills development to equip the manufacturers with the business and technical know-how.
The Department of Textiles will also impart technical advice to the weavers to produce contemporary products that are better-suited for the modern market.
To encourage the younger generation to take up the profession, a handloom training centre will be set up in the village which will be administered under the guidance of the department.
The Ministry of Industry and Commerce will create demand for the products with a buy back arrangement and by directing private sector buyers to the manufactures.
Vice President and Head of Retail and SME Banking of NDB, Raj Aboobucker said, "Reviving the waning traditional industries in the country and creating better market and export opportunities for such entrepreneurs is a priority in NDB's agenda for SME development.
NDB's initiative for handloom textiles in Kuleegama and the earlier initiative for the mask industry in Ambalangoda are first steps of long-term programs to reinforce identified traditional industries."