Cess to support local footwear industries
The Industrial Development Board (IDB) and the Commonwealth Secretariat will develop the leather products industry in Sri Lanka to face the competitive market.
IDB Chairman, Udayasri Kariyawasam said that in the first stage of the joint program, the IDB conducted an extensive study to identify key issues faced by the industry along the whole value chain.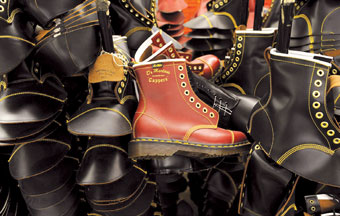 According to the study, local production of leather per week is around 40 tonnes, a comparatively small quantity compared to producers such as India. This amount is equal to the capacity of a medium scale tannery in India.
However, the study forecasts that the supply of leather will increase within the next five to 10 years with the rapid growth in the dairy sector.
Considering the adverse environmental impact, the Government had decided to shift all tanneries to Bata-Atta in the Hambantota district. However, after identifying some practical issues the decision was changed and now the IDB has decided to locate all tanneries in the Puttalam district.
Kariyawasam said that the leather and footwear industry has a huge potential in Sri Lanka and there is an increase in demand for leather products against other synthetic substitutes.
According to the study, the quality of locally produced leather is poor due to several reasons. Lack of regulations, quality standards, wrong animal rearing practices and cruel slaughtering practices were among them.
As a result Sri Lanka has to import leather inputs for the local leather goods manufacturing industry.
Kariyawasam said that the IDB has launched a capacity-building program covering all stakeholders to improve the quality of leather.
Religious and cultural attitudes have a negative impact on this industry. However, such attitudes can be changed through consultation and promotion of the benefits. For instance leather and meat exports from India is increasing rapidly.
If Sri Lanka delays in addressing these issues we will miss the opportunity of using the by-products of the dairy industry and subsequently lose a huge foreign exchange- earning opportunity.
The Government has imposed 30% or Rs. 400 percent cess on footwear imports to support local footwear industries, Kariyawasam said.
He said that there has been a remarkable decline in footwear exports to the EU during the past couple of years.