Colombo has a major role to play:
Sri Lanka's full potential within reach
Each year, more than two million children globally die from diseases related to unsafe water and lack of health services in cities. In addition, one out of three urban citizens in the world lives in slums.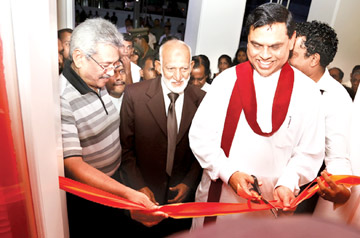 Economic Development Minister Basil Rajapaksa opens the second phase of the Dutch Hospital shopping complex on the invitation of Defence and Urban Development Secretary Gotabaya Rajapaksa.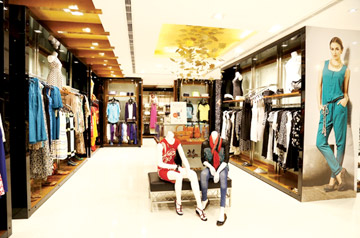 One of the shops at the Dutch Hospital premises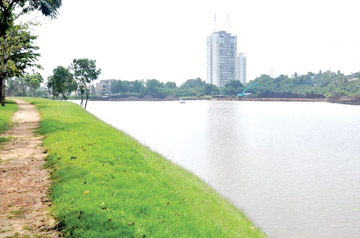 Creating artificial lakes and walkways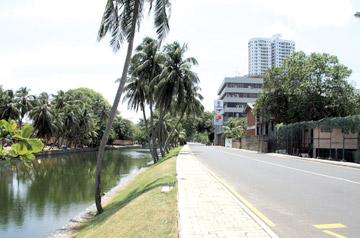 Newly laid out pavements
The total number of people living in slums is one billion of which 90 percent are in developing countries.
Cities only occupy two percent of the superficial area of the earth, but the carbon dioxide discharged by cities accounts for about 85 percent of the total emissions in the world. In Sri Lanka too this is happening to some extent.
It's estimated that over 18,000 acres of prime city land is used by slum-dwellers, said Eng. Rohan Seneviratne, Additional Secretary (Technical), Urban Development Authority (UDA) and Project Director, Metro Colombo Urban Development Project, making a presentation at the Techno 2013 launch event in Colombo.
These lead to health issues, inadequate infrastructure, flooding, poor quality water, unplanned development, environmental issues, weak urban governance, eco- system failure and other issues.
One of the main reasons for the proliferation of slums was political influence by previous governments who allowed unauthorised structures to be built.Today, a bold step has been taken to move away from this scenario and create better places to live for all citizens."Sri Lanka needs competitive, dynamic and livable cities to reach its aspiration of becoming an upper middle income economy," Seneviratne said.
Reduced flooding
The results are already seen with a cleaner and more beautiful city. Flooding has also reduced despite a higher intensity of rainfall.
Over the last decade, the storage capacity in the water basin had reduced by about 30 percent due to uncontrolled landfill and flood plane encroachments by illegal settlements. Steps have now been taken to create artificial lakes and walkways around them. Sri Lanka, at the last World Travel Mart, the largest travel event in the world, won an award in recognition of the beautification process that is being carried out.Protection of the Beddagana Wetland Park and Kotte Ramparts from future encroachments is also being done.In addition, protection of historic areas in close proximity to the sanctuary is being undertaken while providing pedestrians with safe, clean, and convenient walkways along primary, secondary, and tertiary road networks.Land for new community housing complexes have already been allocated within Colombo and discussions with a number of interested companies have commenced," said Defence and Urban Development Secretary Gotabaya Rajapaksa.
"Such a program would be costly, with each unit or apartment costing around two million rupees."But, he said, it would be possible to raise the needed funds through allocating the freed land for development activities.
He said, after many decades, with the country now at peace, it was finally possible to realise its true potential. Colombo, he said, had a great role to play in unlocking this potential.
Infrastructure constraints
"The Metro Colombo Urban Development Project aims to solve several of the city's long-standing infrastructure constraints. I am confident that its successful implementation, together with the other initiatives of the Government to develop Colombo, will help transform this city into a truly world class one".
The mega project costing US$ 223 million is jointly funded by the Government of Sri Lanka and the World Bank. The project area comprises four urban local authorities: the Colombo Municipal Council (CMC), Dehiwela-Mount Lavinia Municipal Council (DMLMC), Sri Jayawardenapura-Kotte Municipal Council (SJ-KMC), and Kolonnawa Urban Council (KUC). A classic example of this Colombo beautification is the conversion of the abandoned Dutch Hospital and Race Course premises in to some of the most pleasant places in the region.
The second phase of the Dutch Hospital shopping precinct was opened for the public by Minister of Economic Development Basil Rajapaksa on the invitation of the Secretary Defence and Urban Development Gotabaya Rajapaksa last week.
The old dilapidated Dutch Hospital building was renovated and developed by the Urban Development Authority under the direction of the Secretary of Defence.
Under the project, the old colonial era buildings at Chatham Street in the Colombo Fort was completed at a cost of Rs. 80 million. Special care was taken to retain and preserve the original architecture during renovations. The Sri Lanka Navy, which was entrusted with the task had done a remarkable job in restoring the building complex to its former glory.The new two-storeyed shopping precinct with six shops including a restaurant, leisure and relaxation area is occupied by a number of high-end brands. Due to its central location in the financial district and the close proximity to world class hotels in the city and also due to its old world charm, it has become a popular shopping cum dining venue, especially among tourists.