Jaffna, a model district soon
A multitude of development-oriented mega projects are under implementation in the Jaffna district to wipe off the scars of terrorism and to make it a model district, thriving once again in economy and education. The major focus at present is on completing the renovation/rehabilitation of the main highways and the railway line from Palai to Kankesanthurai. Work on the A9 Jaffna - Kandy Road has been completed and the restoration of the railway line is expected to be completed in the early part of next year. Work on the Jaffna - Point Pedro Road, Jaffna - Palai Road and the Jaffna - Kankesanthurai Road is in progress, Jaffna district secretariat sources said. Authoritative sources have said that six power sets will be imported for operating in the Northern railway lines.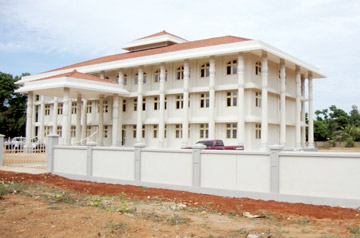 Construction work on the head office building for Valikamam South Pradeshiya Sabha in progress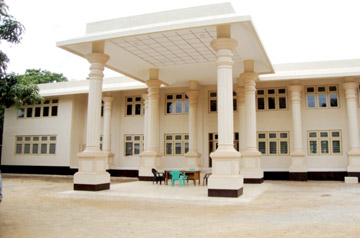 The head office building for Valikamam West Pradeshiya Sabha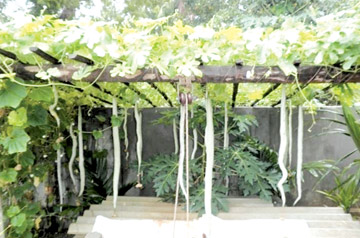 A model home garden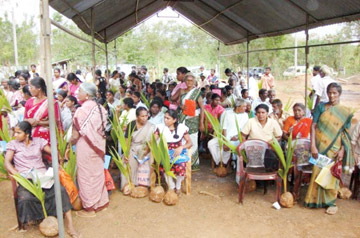 Issuing coconut saplings under the Divi Neguma program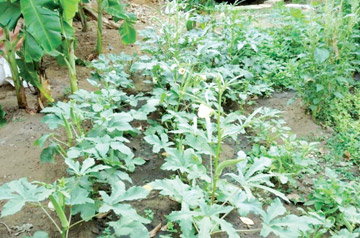 In the health sector, the Rs. 2900 Mn Japanese JICA-funded Jaffna Teaching Hospital project has been completed and is now operational.
A total amount of Rs. 7272.689 Mn has been allocated for the first quarter of 2013 for development of the railway, roads, aviation, transport facilities, social infrastructure, administrative functions, agriculture, industries and tourism in the district, according to district secretariat sources. The sources expressed optimism that with the completion of the ongoing projects the district will catch up with what it had lost in development due to the three-decade-long LTTE anarchy.
Modern towns, housing complexes, improved agricultural and fisheries facilities, housing projects, electricity to the entire region, enhanced irrigation facilities and upgraded hospitals will be in place before long, the sources said. A five-year plan at a total cost of Rs.49,888.16 Million for implementing 2,603 projects in the sectors of irrigation, agriculture, livestock development, fisheries, water supply and sanitation, roads and bridges, electricity, education, health, housing, industries, social welfare and environmental management has also been formulated.
The resettled people have resumed their traditional professions with assistance rendered by the government.
An amount of Rs. 18,328.18 Mn has been allocated for the Jaffna-Kilinochchi Water Supply and Sanitation Project under the Iranamadu Water Supply Scheme. A population of 435,000 living in the DS divisions of Jaffna, Thenmaradchchi, Karaveddy, Velanai, Kopay, Sandilipay, Chankanai, Nallur, Karainagar, Kayts, Poonakery and Palai will be benefited. Although the entire project was originally estimated to be completed in seven years, steps have been initiated to accelerate the project, according to secretariat sources. It is an ADB, AFD and GoSL funded project. Funds have also been allocated for Water Supply Schemes in Point Pedro, Valvettithurai, Maruthankerny and Delft off-shore Island. Rs.674 Mn has been allocated for the Point Pedro Scheme under which a local population of 22,000 will be benefited. Rs. 248.57 Mn has been allocated for the Valvettithurai scheme and 10059 people will be benefited. Rs. 25.8 Mn has been allocated for the Maruthankerny scheme to benefit 1,900 persons. The scheme for the Delft island at a cost of Rs. 12.96 Mn will benefit 1,443 persons.
Of the total power demand of 44.60 MW, the Aggreke Power Plant will provided 20 MW and the total power available is 48.00 MW. Eight electricity projects have been completed at an expenditure of Rs. 309.61 Mn while work on other power supply schemes in the district is in progress.
Under the Divi Neguma National Program (Stage III- 2012 ) 43,500 packets of seeds of tomato, brinjals, bitter gourd, snake gourd, cucumber, curry chillies and chillies were distributed among agricultural families. 50,940 packets of seeds of drumstick, 11,250 packets seed pomegranates, 8,002 packets of seed lemons, 7631 packets of seed guava, 7,050 packets of seed ambarella, 13,460 packets of seed papaw and 89,400 coconut seedlings were also distributed.
Under the 'Divi Neguma - One Million Homes Program' of the Ministry of Economic Development, an exhibition of cottage industries was held at the Jaffna Hindu College participated by 6,000 persons. 2,307 beneficiaries for cottage industry assistance were selected at the exhibition. A large number of beneficiaries have been trained in cottage industry.
Under the Department of Local Government "Local Government Infrastructure Improvement Project (LGIIP)", the Kayts Pradeshiya Sabha (PS) Head Office building was constructed at a cost of Rs. 26.37 Mn. A contract amount of Rs.68.81 Mn was given for the construction of the Valikamam South PS Head Office building. For the construction of the Valigamam South West PS head office at Sandilipay, a contract amount of Rs.40.49 Mn was given. For the construction of the Chavakachcheri PS head office at Chavakachcheri a contract amount of Rs. 29.20 Mn was given and Rs. 53.38 Mn was given for the construction of a UC Town Hall at Chavakachcheri. For the construction of the Valigamam East PS sub-office-cum-library and an ayurvedic medical clinic a contract amount of Rs. 37.04 Mn was given.
Under the "Mahinda Chintana" program of developing 5,000 primary schools, 61 schools in the Jaffna district were selected for development. A total amount of Rs. 30.50 Mn was allocated by the Ministry of Economic Development for the implementation of the program in the district at the rate of Rs. .05 Ml per school.
Under funding from the Asian Development Bank (ADB), the Ministry of Highways had allocated Rs. 1,387 for the improvement and rehabilitation of the Navatkuli - Kerativu Road, an amount of Rs. 628.74 Mn was allocated for the Manipay - Kaithady Road. The total allocation for the improvement and rehabilitation of these three highways is Rs.3,498.78 Mn. For the improvement and rehabilitation of five roads under Chinese funded projects, the Ministry of Highways has allocated Rs. 9,452.00 Mn for the Kandy - Jaffna Road, Rs. 3,060.41 Mn for the Jaffna - KKS Road, Rs. 3,395 Mn for the Jaffna - Point Pedro Road, Rs. 2,890.42 Mn for the Jaffna - Palaly Road and 6,450.00 Mn for the Puttur - Meesalai Road. The total allocation last year was Rs. 25,247.83 Ml.
Under last year's program, the Ministry of Economic Development had allocated Rs. 8.4 Mn for many Divisional Secretariat Divisions for promoting small time local industrial products, such as palmyrah products, garments, tailoring, food based products, wood crafts and chemical based products. A total of Rs. 376.91 Mn was allocated last year under the Samurdhi Development Activities for promoting agriculture, industries, marketing, fisheries, livestock development and construction of toilets.
The Ministry of Fisheries has introduced several welfare schemes for fisher families and has provided all assistance including fishing gears, vessels, docking piers, fisheries harbours and marketing facilities. With the fertile fishing grounds in the Northern seas fish production is on an upward trend.
Of the 22 projects under a fund allocation of Rs. 138 Mn from the Ministry of Health 12 have already been completed while 11 are in progress. The Atchuvely Industrial Estate, with a major funding of Rs. 253.80 Mn from the Government of India and Rs. 26.20 Mn from the GoSL, is producing aluminium hardware, stainless steel products, coconut oil, sodium silicate, soap, poultry feed, canned fruits, printing ink and glassware.
The total land area is 64 acres, factory units are 36 and employment has been provided to 2,000 persons.
The UN Agencies had allocated Rs.962.79 Mn for 50 projects and the projects are in progress with Rs.575.48 Mn already spent. INGOs have allocated Rs.1040.59 Mn for 148 projects and Rs. 723.77 Mn has already been spent on these projects. Local NGOs have allocated Rs.666.43 Mn and Rs. 450.29 Mn has already been spent on these projects.
These projects are on fisheries, housing, and other welfare facilities to the resettled families. Under the District Development Plan for 2012 a total of Rs. 18,909.43 Mn had been allocated for last year.