Waterfalls in the World:
Niagara Falls New York Must Visit Location
The Niagara Falls - among the largest, most impressive and best known falls in the world - lie in the extreme north-west of New York State. Here masses of water from Lake Erie plunge over an almost 200 ft drop to flow into Lake Ontario. First described and sketched by a missionary, Louis Hennepin in 1678, they attract over 12 million visitors a year.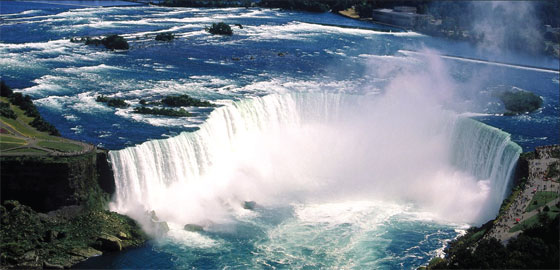 The masses of water are used to produce energy. The present hydroelectric power stations have a total output of three million KW. Before the falls were harnessed to produce electricity, water poured down at the rate of almost 1,300,000 gallons per second.
A Canadian-American agreement of 1951 on the joint use of the water guarantees a daytime flow of just under half that amount during the summer and just under a quarter at night and in the winter.
Formation : The origins of the Niagara Falls go back to the Ice Age, when the river, flowing at a higher level than today over a limestone plateau on the Niagara escarpment, dropped down to the level of Lake Ontario near the present-day town of Lewiston.
Then, as a result of retrograde erosion, the falls rapidly moved upstream. Over the past 3,000 years they moved back from the Rainbow Bridge to their present position. The pace of erosion depends on the volume of water going over the falls; but at the present rate it can be expected that within a few hundred thousand years the Niagara Falls will be close to the American city of Buffalo.
Geography : The masses of water from Lake Erie thunder over a horseshoe-shaped rock wall 700 yards long at the Horseshoe Falls, which are in Canada, and, a short distance north-east, over the straight American Falls, 360 yards long. The frontier between the United States and Canada runs along the middle of the river.
Below the falls the Niagara River flows through a deep gorge varying in width between 90 yards and 330 yards. To the north-west the gorge narrows and forms a series of rapids (the Whirlpool Rapids).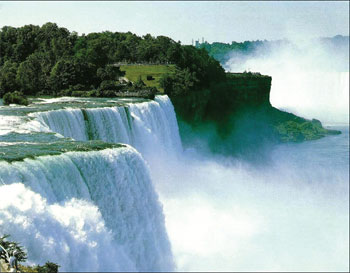 The best views of the falls (which are illuminated at night) are to be had from terraces and observation towers on the Canadian side. Even more impressive is a rather damp boat trip in the "Maid of the Mist" (waterproof coats and hats provided). The boat sails past the American Falls into the clouds of spray under the Horseshoe Falls. A cableway on the Canadian side, the Spanish Aerocar, crosses the surging waters of the Whirlpool.
Sightseeing helicopter flights are available both on the American side (Goat Island) and on the Canadian side
- Internet.