Winner:
Advantages and disadvantages of electronic media
Nowadays, children are addicted to the electronic media, which includes television and computers. There are advantages as well as disadvantages of electronic media.
For example, computers can be an enemy and friend for children. One of the advantages of using computers is that children can use them for school work such as projects and even to get ideas to write essays.
On the other hand, using a computer can harm the sight of children and also using it in the wrong way will spoil children. Using computers to do everything may cause children to lose their writing skills.
Television is another invention which can be important at times but has more disadvantages. Violence on television can harm children. By watching them, children are likely to become more aggressive towards their parents and teachers. Parents must create a peaceful environment around them and they should not let their children watch violent programs. Children should be trained to watch only useful programs such as debates, educational and spell master programs and news.
These are some advantages and disadvantages of the electronic media. We must differentiate between good and bad programs before watching them.
---
Winner:
My favourite book
There are many well-known books in the world. Most of them belong to the fairy tale categories. Rapunzel, The Prince and the Pauper, The Princess and the pea, Pinocchio and Black Beauty are some of them. But my favourite book is "The Prince and the Pauper."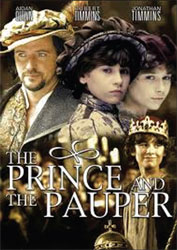 The Prince and the Pauper is the best book I read recently. The author of the book is Mark Twain. It is a very enjoyable and interesting book.
There are many characters in the book, but the main characters are the Prince and Pauper Tom. Tom was poor and he had two sisters, Bet and Nan. The other characters are his mother, father, grandmother, two sisters and an old man Andrew, living in an old house.
They were paupers because their father had not worked. Tom wanted to become a Prince some day and he did the work that a Prince would usually do.
One day he went to the palace to see the Prince. The Prince and Tom looked the same. After a discussion the Prince wanted to be a Pauper for sometime.
Tom stood at the Palace and Edward went away with Tom's clothes. The Prince and Tom faced many troubles.
They both wanted to be real children again. After the death of the King, the Prince will be crowned. At that time Edward came to the Palace and proved his identity. He was crowned as the King then Tom came to the Palace and lived with his family. They never became paupers thereafter. However, at the end of the book, I thought that it was a true story.
I never felt bored when I was reading the book. "The Prince and the Pauper" was the best book I have read so far.
---
Winner:
The plate
I saw a plate in the sky,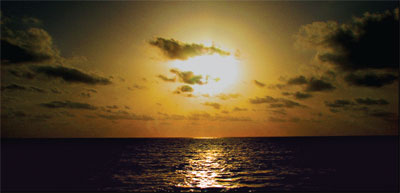 Everyday and every night,
Sometimes half,
Sometimes full,
Sometimes quarter that was good,
But it was beautiful when it was full.
And when I go to the beach,
I cannot blink my eyes,
Something silvery was there in the water,
Thank God, it was the moon's light,
Glittering in the sea.
---
Winner:
Falling snow
See the pretty snowflakes,
Falling from the sky;
On the walls and housetops
Soft and thick they lie.
On the window ledges,
On the branches bare;
Look how fast they gather,
Filling up the air.
Now the bare and black bushes
All look soft and white,
Every twig is laden,
What a pretty sight.
---
Winner:
A terrifying dream
It was a rainy Saturday night. I felt sleepy and went to bed early with my sister. We were talking about a trip to the Sinharaja Forest and I fell asleep as we stopped talking.
I think it was midnight. My mother switched on the lights and asked me loudly, "Why did you scream? Did you get afraid of something?"
Then I remembered that I saw a dream. I saw that I was lost in a large forest. I did not meet anyone. I could not find my way out of the forest. I walked along the forest. I ran round and round in the forest. I heard weird noises of animals, birds and snakes.
Suddenly, I saw a big elephant coming closer to me. I was so terrified and tried to scream. It lifted its trunk. I screamed. That was the end of my terrifying dream.
I woke up and was happy that it was only a dream.
---
The reading habit should be developed
"Reading maketh a full man" is a famous saying that we have all heard. It is a truism that we get vast knowledge by reading. In modern society, there are many people who read books as their hobby.
The reading habit should be developed in school children. Sometimes children don't like to read because it makes them bored. There are lots of advantages of reading.
They can attend to their studies and get pleasure by reading interesting books.
Nowadays children do not have leisure because there is so much of competition in school. Reading helps children to relax. Therefore, reading is a good habit that should be developed among school children. At present children spend their leisure watching television and are using the computer. There is no advantage in watching television. But reading makes one a creative man, and the person who reads books has many creative ideas.
---
King Vijaya's arrival
Prince Vijaya and his 700 crew members were sent away from India. They landed at Talaimannar in Sri Lanka. When they got out of the ship they went in search of people. They found only a dog roaming around the place.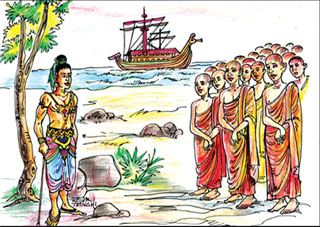 Vijaya sent his 700 friends to go behind the dog. However, there was no sign of their return. Then Vijaya himself went in search of his men.
He found a woman named Kuweni. Vijaya asked Kuweni whether she saw his friends. Kuweni said, "No." He noticed that Kuweni was not blinking her eyes. Vijaya took out his sword and asked "Who are you?" Kuweni said that she was a Yakka. After that she released his friends. His friends settled down in villages such as Vijithagrama (Vijithapura) and Anuradhagrama (Anuradhapura).
One day Vijaya told Kuweni that he wanted to become the King. Kuweni organised a party for the Yakkas and then Vijaya killed all of them.
Vijaya was the first King of Sri Lanka. But after a few years King Vijaya's friends told the King that they cannot keep Kuweni in the kingdom anymore. Then King Vijaya chased her and the two children Jeewahatha and Dissala out of the palace.
Kuweni was killed by the Yakkas. She made a curse. The curse remained upto the time of King Panduwasedewa. Kuweni's children ran in to the jungle.
It is believed that the Veddahs are their descendants.
---
Myself
My name is Thinushkanth. I am a boy. I am seven years old. I live in Hali Ela.
I attend BD/ Saraswathi Kanishta Vidyalaya.
My mother's name is Perinba Devi. My father's name is K. Yogeswaran.
My hobby is reading books.
I like to be a doctor when I grow up.