Narrow gauge lines-a reply
A reader has sent us the following on our story on the narrow gauge lines.
I read with interest regarding the railway lines in Sri Lanka which appeared in the Junior Observer on June 2, 2013.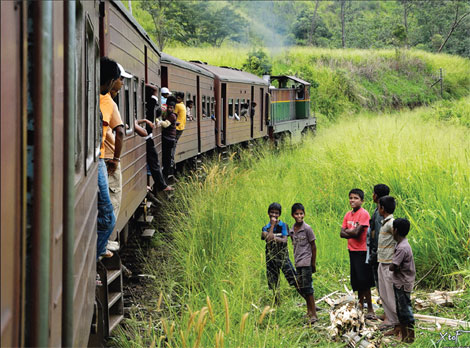 I can vividly remember my mother saying as to how they travelled to Ragala from Nanu Oya via Nuwara Eliya by the Baby Train and this made me inquisitive to look-out for the abandoned rail track; which I am happy to state was seen by me between Nanu Oya and Nuwara Eliya during my student days, as we often visited our relatives at Coombwood Estate, Talawakelle and some others on two tea plantations at Nanu Oya during our school holidays, where my paternal uncle T.F. Mathew was the Medical Assistant.
As I was a keen observer, I also remember having seen the abandoned railway line 'here and there' on my way to Yatiyantota passing Karawanella, as my two younger brothers Rexy and Neville Muscreen were boarders at St. Gabriel's College, Yatiyantota.
It would be prudent if these two railway lines could be resumed for passenger transport, not only due to the increase in population, but also due to the influx of tourists to this country, especially after terrorism was eradicated in 2009.
It would not be a 'white elephant' any more, as in the past, because most of the tourists are bound to make use of this railway service for enjoyment.
The same old Baby Trains could be welcome, as this will also be something special when compared to the trains running on the broad railway lines.Similarly, if due thought is given to re-commission the railway line beyond Homagama (K.V. Line) upto Ratnapura/Openayake, because of the broad line available up to Homagama; it would be a boon to the workers travelling towards Colombo for employment purposes and needless to state that the transport of goods would also be undertaken, due to the reasonable charges levied by the railway.Nobody will have a grouse, because the railway tracks that were abandoned in the three areas mentioned above, would no doubt still be the property of the railway and I hope this would catch the eye on the Minister of Transport for implementation.