Thisal Moragoda:
Wins Best Actor 2012 at SAARC Film Festival
We carried the winning photograph on the cover of the Junior issue of June 9. . This Unassuming Thisal Moragoda of 'Mouse' fame who took the local Children's film world by storm, has hit the headlines again with his starclass performance. He was awarded an international accolade in the form of 'Best Actor 2012 at the SAARC Film Festival recently.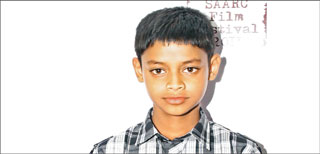 He is eleven years and his acting in "Mouse" was an absolute stunner. The panel of judges were overawed with his stellar performance. Many senior actors were also considered for this award but Thisal's acting was way beyond anything the judges had seen in this part of the world, they said.
They compared him to Ricky Schroeder who acted in the 1979 blockbuster, The Champ.
His stellar performance as Sookin, a poor boy living in the slums and being talented and determined, he assembles computers and applies for the 'World's Child Inventor' competition. He invents a mouse for the computer which can be operated with the leg thus giving an opportunity to the differently-abled also to make use of the mouse.
He gives life to this character and is the cynosure of all eyes. The title of the film comes from the invention of the "Mouse".