OBSERVER-MOBITEL CRICKET CONTEST encouraged school cricketers -Mahela
Sri Lanka cricket captain Mahela Jayawardene commending the SUNDAY OBSERVER-MOBITEL SCHOOLBOY CRICKETER OF THE YEAK CONTEST said that it was a much look forward to event during his school cricket career at Nalanda College and it is a contest which has BENEFITED many cricketers and a show that acknowledges their efforts and encouraging them to do well. It is a great event as we all enjoyed going for that awards night as schoolboys and I am sure still those young schoolboys would love to go for that kind of event where they get the opportunity to see the glamour as well as recognition for their good work.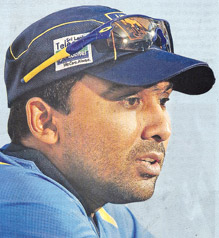 Jayawardene had a terrific school cricket career, captaining Nalanda College and his efforts were duly recognized when he was chosen to play for the Sri Lanka Under 19 team against the England Under 19. Thereafter Jayawardene was selected to play in the Sri Lanka 'A' Team against the South African 'A' team where he really stamped his class as a future player of quality. He struck a century against their counterparts which included players of calibre of Jacques Kallis, Shane Pollock, Nicky Boje, Lance Klusener and Clive Ekstein to name a few.
Enjoy the game at school
His sincere advice to the young schoolboy cricketers was to enjoy the game while at school. "The good thing is we shouldn't be under pressure or put into pressure situations. At school level is all about enjoying one game and having fun with that opportunity.
The only advice that I can give them is to work hard and try to improve as one day we all have the dream of representing the country and hopefully for those young cricketers ,to make that dream a reality it is going to be all hard work.
Jayawardene won the Best Batsman's award in 1994 the year which Thilan Samaraweera won the Schoolboy Cricketer Of The Year award. In fact Samaraweera won it in the following year as well in 1995. Both these players were well established as top batsmen in the side.
Sangakkara took over captaincy from Mahela
Mahela was the 2007 World Cup captain in the West Indies prior to handing over the reigns to his deputy Kumar Sangakkara who carried on till the 2011 World Cup held in the sub-continent. Tillekeratne Dilshan had a short stint as captain, but Jayawardene was reinstated as the captain for one year for his astute leadership qualities prior to handing it over to the present captain Angelo Mathews. He has proved that his captaincy quality beyond doubt.
Jayawardene made his Test debut against India at the R.Premadasa Stadium in August under Arjuna Ranatunga in 1997 in the Test against India where Sanath Jayasuriya struck his triple hundred with Roshan Mahanama scoring a double hundred.
All players have won awards
All these players have won awards at the Schoolboy Cricketer contests. In 1998 he made his first ODI appearance against Zimbabawe at the R. Premadasa Stadium. He has featured in 394 ODI's and has scored 11,022 runs. In Tests he has scored over 10,000 runs in 138 Test matches with a highest score of 374 against South Africa at the SSC grounds.
The 36 year old Jayawardene, while compiling a triple hundred (374) was involved in a world record partnership 0f 624 for any wicket with Kumar Sangakkara (287) who also struck a double hundred. Jayawardene missed the highest individual Test score set by Brian Lara (400) by 26 runs when he was bowled off a delivery which cut and kept low off Dale Steyn.