Walk, an endearing gift to man
Among all living beings, only humans have the ability to walk on their hind legs. A myriad of actions too could be performed with the feet.
Man can walk briskly, leisurely, with hands in his pockets, chatting, exercising, gesticulating, carrying children or heavy bags while at the same time, see what's happening around him.
The only bird that can walk on its hind limbs is our tuxedo-attired Arctic/Antarctic domiciled penguin, a flightless bird that walks on ice.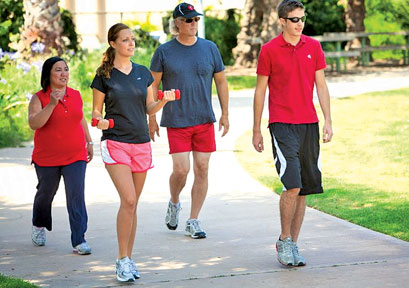 Of all the walks, we recall with reverence, the walk of our celestial teachers, the hallowed walk on seven lotus flowers by Prince Siddhartha and the walk of Jesus Christ on the waters of the Sea of Galilee.
Memory
Then, the walk of our hallowed teachers on mother earth preaching their immortal words to all mankind while their disciples walked amongst the multitude.
The pious followers of the Buddha walked serenely, looking at their toes. Devotees walk round the Holy Kaaba in Mecca or walk round the sacred Bo trees in the island, or up the Holy Mountain Sripada, or even up the hills simulating the walk of Jesus Christ up to the summit of Calvary.
Humans walk round the corridors of the temples at Trichendur, Thirupati, Kataragama and make a walk up to the sacred relics of Gauthama Buddha in Kandy. All these walks are brought to our mind while walking down memory lane.
The walk makes a triumphant entry into the lives of human beings during their short sojourn in this life when we take our first step on mother earth perhaps amidst smiles, tears, clapping and clicking of cameras.
Then the grandparents take their new 'gem' for a short walk. A snail-paced walk for all three.
The grandparents may need walkers at times.
The word has many suffixes and prefixes and phrases that give many a meaning. A walking tour perhaps with knapsack on your back. A mouth-organ or melodious mobile phone makes walking enjoyable.
While crossing the road, 'Never run', they say. We know that if the road is clear, to walk briskly, after looking to the right and left for oncoming traffic.
Under normal circumstances, man is unable to foretell where and when his last walk would be. We cannot avoid it. A walk is a cherished gift to man.
Let us hope that this system of perambulation by man would be a source of relaxation and joy till the end of time.