Plans for outlets in South Asia, China:
Laksala, a profit-making venture
In the past, Sri Lanka was infamous for closing down State institutions and selling them to the private sector for a song.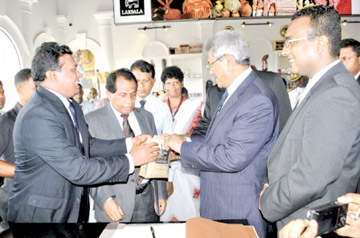 Secretary Defence and Urban Development Gotabaya Rajapaksa at the opening of the renovated Laksala shopping complex in Galle in March

The Laksala outlet at Thunmulla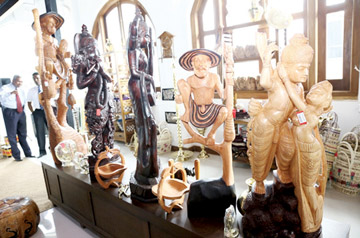 The newly refurbished Laksala at Galle

A foreigner selects items at a Laksala showroom
Surprisingly, some of these institutions were profitable ventures. The irony is that the private sector companies and individuals who took over them sold what was left and abandoned them or some times ran them for some time, enjoying all the short-term gains and then abandoned them. This was a talking point in the country and when the Mahinda Chinthana was being drawn up, President Mahinda Rajapaksa made a pledge that none of the remaining State institutions would be privatised, even if they were running at a loss.
This promise was not broken, but is a hard one to keep, because some institutions were neglected and mismanaged to the extent that it was cheaper to close them down and pay the salaries of employees from the Treasury. In a bid to find a solution to this problem and turn these loss-making institutions around, President Rajapaksa created the Strategic Enterprise Management Agency (SEMA) for the restructuring and re-modification of loss-making State institutions. Under the watchful guidance of Secretary, State Assets and Enterprise Development, Willie Gamage, many institutions were turned around and today they are not only making profits, but also paying taxes to the Government.
With the objective of popularising and promoting the Sri Lankan handicrafts industry, both locally and globally, Laksala was inaugurated in 1964 by the then Prime Minister Sirimavo Bandaranaike with an investment of Rs. 2.5 million and a building in the Fort.
Laksala is the only State-owned gift and souvenir boutique and was placed under the National Crafts Council and Allied Institutions Act, No. 35 of 1982.
Financial setbacks
However, the next few years saw Laksala going through many hardships and financial setbacks due to numerous reasons and it was often referred to as an 'under-performing entity'. By 2008, Laksala was considered as an inactive government organisation and with the intervention of the then Minister of Small Industries and Self-employment, Laksala was restructured through a Cabinet paper dated December 23, 2008, to be an entity that was limited for marketing activities.
Since then, Laksala has witnessed numerous changes with an ever growing list of products on sale. Today, it operates through 10 branches located islandwide and offers a wide variety of Sri Lankan products at a reasonable price.
Branches refurbished and modernised
The Laksala showrooms that operated with basic and minimum facilities were soon upgraded and refined to suit the needs of the modern discerning customers. The loss-making showrooms were closed down while the employees of these units were compensated under a voluntary retirement scheme which was drawn under a win-win system. In addition, many employee motivational programs were conducted to upgrade and improve the customer service and professional standards of Laksala employees.
Under the restructuring exercise, certain outlets such as those at Galle and Katubedda, which were in a dilapidated condition, were revamped and refurbished to look like sophisticated and modern gift boutiques. In addition, establishing showrooms on both sides of the Southern Expressway, extending the floor area at the Bandaranaike International Airport showroom from 80sqft to 960 sqft, opening new showrooms in Pinnawala, Ja-ela K-Zone and at the Race Course were also part and parcel of the restructuring exercise.
Laksala's flagship showroom at Thummulla has been upgraded to the level of a state-of-the-art gift boutique by extending its floor area and introducing new facilities and amenities sought after by the modern customers.
The Laksala management has already commenced refurbishing the showroom in the Fort, which is nearly 50 years old. Amidst all these accomplishments, the newest showroom is being constructed at the Colombo National Museum premises under the Divi Neguma social development scheme with the guidance of Economic Development Minister Basil Rajapaksa.
This fully air-conditioned sales outlet of Laksala is to be established within the premises of the museum, especially to serve foreign tourists. The Minister said Sri Lanka has now become a selected destination for tourists and it is time we provide all facilities to serve them. The new outlet at the museum premises will have facilities such as a rest area and latrine facilities for tourists.
Secretary Defence and Urban Development Gotabaya Rajapaksa opened the renovated Laksala shopping complex in Galle in March.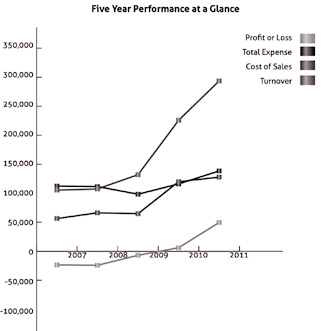 Ministers including Chief Minister for the Southern Province Shan Wijayalal De Silva, Members of Parliament including Manusha Nanayakkara, a large number of Government Agents in the area and members of the Armed Forces were also present on the occasion.
Chairman and Chief Executive of Laksala Anil Koswatta said that they are going from strength to strength and even have plans to open outlets in the South Asian region and other Asian cities.
"We are determined to venture into the South Asian region in general and India in particular. We are also looking at China, which is a growing market. In addition, we have got many inquiries even from European countries," he said.
Laksala Import and Export Services will be established to import raw materials to produce gifts and souvenir items including handlooms and batiks and export finished gifts and souvenirs or any other value added products including furniture.
During the time the restructuring process commenced, there were only 800 suppliers registered with Laksala.
Now, as a result of the dynamic reformation process, there are more than 5,000 artisans, craftsmen and suppliers registered with Laksala from across the island.
All suppliers get paid immediately or within 14 days of supplying goods to Laksala, depending on their contract guidelines. Laksala has also taken upon itself the task of educating and guiding these suppliers on new product development under its forward vision. The supplier base will be increased up to 15,000 within the next few years.
As a result of the restructuring process, Laksala has a program with Divi Neguma members to purchase items from them. "We also provide them training which has continuously ensured their financial stability."
In the annual report of the Finance Ministry for 2012, positive observations are made on Laksala's performance after its restructuring process. The report has cited Laksala as a recognised business entity among the State sector and has positioned it at 33 among profitable Government-owned organisations.
Under Chapter 11 of the same report, Laksala's performance has been referred under the Government-owned commercial entities and a summary has been provided on page 400. In addition, pages 402, 466, 469, 470, 481 and 482 make references to Laksala and on page 469, there is a comprehensive debrief about the current performance of the Sri Lanka Handicrafts Board (Laksala).
During a Committee Of Public Enterprise (COPE) hearing on April 29, 2011, the issue was brought up that Laksala has not presented any annual report to Parliament since 2005 and on page 195 in the first report issued by COPE on December 1, 2011, this matter was mentioned as a grave concern under the Sri Lanka Handicrafts Board operations.
For the first time in 20 years, in the report of the Auditor General, there was a positive reference made on Laksala that goes as, "My opinion is that the financial activities and cash flow for the year ended on 31st December 2011 and the financial situation of the Sri Lanka Handicrafts Board represented by the financial statements as at 31st December 2011 demonstrate a true and fair situation as per Sri Lanka Accounting Standards, excluding the effect caused by the facts mentioned in para 2.2 of this report." Laksala is just one example of a loss-making institution being turned around as a profitable venture and there are several other institutions that have followed suit, which has proved that closing State institutions and selling them to the private sector for a song is not the solution.
If the private sector can, the State sector too can do that and turning Laksala around is a living example for this.