Pinchi and the Alphabet - colourful DVD for children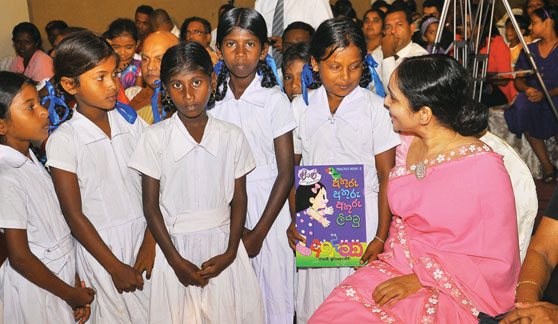 Sharing a happy moment...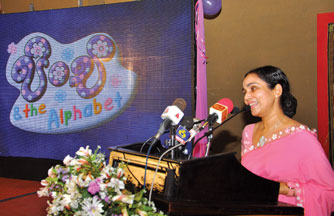 Janaki reminiscing her childhood experiences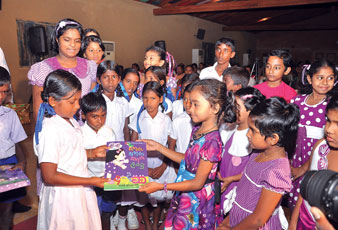 Presenting the DVD and book to the young guests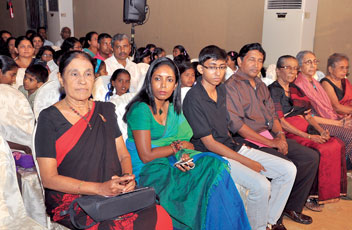 A section of the distinguished
audience at the BMICH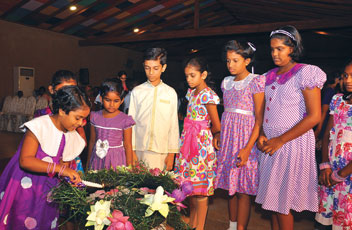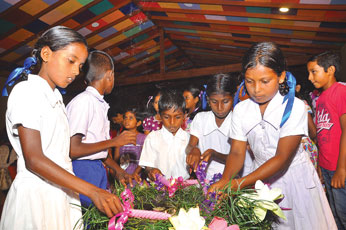 Children taking part in the opening ceremony
Pix: Susantha Wijegunasekara
'Pinchi and the Alphabet', is an imaginary concept of famous children's writer, Janaki Sooriayarachchi. "I recalled how I learnt the alphabet when I was a child. I gave each letter a name and they became my friends. I imagined them in the sky among the clouds, among the trees and bushes in the garden, in the shadows fallen on the floor and on the beautiful wings of butterflies. Some letters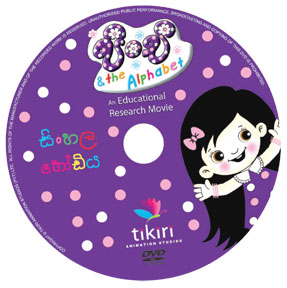 danced to a rhyme and some smiled. I imagined that some letters were brought from heaven by little fairies. All that was in my little fancy world as a child, was poured into Pinchi and the Alphabet - a DVD for children", Janaki said at the launch of Pinchi & the Alphabet, an educational research movie at the BMICH on September 12.
Many children may have heard of Janaki because she has written many colourful stories for children. These stories have enthralled young and old. Even young children who are yet to learn their ABCs yearn to look at her books as they understand the story by just looking at the colourful and beautifully sketched drawings that cover in some instances nearly three quarters of a page.
Even if a child has no language skills in either English or Sinhala (the two languages she writes in) they have no difficulty in understanding the story as Janaki tries to add every tiny detail of her story in her sketches. "The colourful 'information' in each picture is easily absorbed into the young minds", she said.
Janaki's latest addition is the Sinhala Alphabet in cartoon form, titled 'Pinchi and the Alphabet'. "It's not a just another movie, it has a few cartoon characters that teach the alphabet and is full of fun. The child learns 32 letters of the Shuddha Sinhala Hodiya (Sinhala Alphabet) without much effort," Janaki said.
"My aim is to make the alphabet easy and interesting for children. This is the first of its kind in Sri Lanka. Our teaching methods should be changed. We are still practising methods that the rest of the world has shunned many years ago. Even text books are uninteresting to a child", Janaki said.
Janaki launched the Pinchi DVD last Thursday. She presented it to 12 children of the only school in Uchchimune, an island off Kalpitiya. "I launched my recent book at this school and found them really interested in reading the book. They study in Tamil, but were eager to learn Sinhala. Hence I thought they would be the best group to be presented with their first ever Sinhala alphabet cartoon DVD in Sri Lanka," she said.
Janaki has written and published more than 206 stories so far. Out of them 31 stories are written in English while the rest are in Sinhala. Janaki is not merely a fairy story teller, but a writer who has educated children with facts in many subjects. In 'Vahi Lihini Patiya' (the Pelican), she discusses about the water cycle. Space science is based on 'Pitasakwala Kumaraya' (The alien prince), and in Achcharu Hotale (the hotel) Janaki gives factual information about Economics, how to start a business, how to do market research and many more. This information is included in the body of the story and a child who reads it doesn't for a moment realise that he or she is reading in-depth facts of a widely accepted subject as it is presented in the story book in a simple and easy-to-understand technique with vibrant colours and eye-catching sketches.
The child learns them without realising that he is studying it as he thinks he's reading another children's story. Janaki was awarded with the Bunka Award of Japan in 2005, and also won the State Literary Award of Sri Lanka in 2004 and 2007. Two of her books; Magic Soup and Giant Mushroom are assigned for case study in the Department of Child Psychology in Carnegie Mellon University of Pittsburgh, USA. Her story, Sindu has been translated into 14 languages.
"It's high time to change the methods of teaching in Sri Lanka. That's why I am involved in this kind of work. Pinchi and the Alphabet' is a result of tedious work carried out over three years. I have spent over Rs 10 million to complete it. The satisfaction I got after launching the DVD is worth more than what I've spent. I think this is a meritorious act and I have fulfilled an enormous task for children," Janaki said.
Hope her endeavour turns a new page in the education system in Sri Lanka.