Observer Schoolboy cricketers reach Himalayan heights:
Master-blaster Sanath won Observer Outstation Cricketer Award in 1988
Master-blaster Sanath Jayasuriya - a former Sri Lanka skipper, has been very much a part and parcel of inter-school cricket in the country and he excelled in cricket while at St. Servatius College, Matara and was picked as Observer Schoolboy Cricketer of the Year in the Outstation Segment in 1988. He was also picked as the Best Batsman and Best Allrounder in the Outstation Section.
Sanath Teran Jayasuriya is one of the finest allrounders from Matara to emerge in school cricket and he kept faith with the game and it was natural that he would make the grade to the top. He has been with the Sri Lanka team and has captained the team too.
In two days time, Jayasuriya will be involved with the Sri Lanka team at the Asia Cup tournament in Pakistan and after his exploits in the recent Indian Premier League, all cricket fans will be awaiting for some cracker-jack batting in the Asia Cup tournament.
While in Pakistan, there is another important date: June 30 - that's Sanath's 39th birthday, and it will, no doubt be celebration time over there.
After a few hiccups, he is back in good form. He scored a devastating 114 not out off just 48 balls for Mumbai Indians against Chennai in the recently concluded Indian Premier League. Jayasuriya regained his position in the one-day squad for Asia Cup after he had been dropped for the West Indies tour.
He then followed up his Century with a 17-ball 48 not out to surpass the Kolkata Knight Riders score of 67 in just the 6th over which was the biggest victory in Twenty 20 history. He was the tournament's 3rd highest run getter with 514 at a strike rate of about 160. He led the six hitting board.
Jayasuriya was born in Matara on 30th June 1969 and had his education at St. Servatius' College, Matara. It was there that his cricketing talents were nourished by the Principal, G. L. Galappathy and coach Lionel Munasinghe.
The all-rounder has been a member of the Sri Lanka cricket team since 1989. He is the only player in the world to score over 12,000 runs and capture over 300 wickets in ODIs. He is also regarded by many critics and supporters as one of the best ODI players to ever play the game.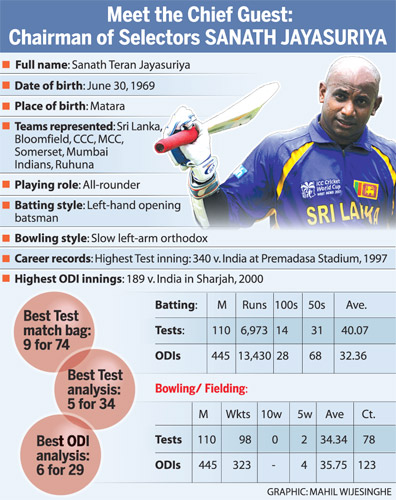 Jayasuriya is the first cricketer to be appointed as a UN Goodwill Ambassador (by UNAIDS, Geneva) for his commitment to prevention of HIV/AIDS among young people in Sri Lanka.
Sanath Jayasuriya revolutionised one-day international batting with his aggressive tactics during the 1996 cricket World Cup. The tactics used were to take advantage of the early fielding restrictions by smashing the opening bowlers to all parts of the ground. This was a novel but potentially match-winning tactic at that time. Pretty soon this tactic became the standard opening batting strategy in world cricket.
Glenn McGrath cited Jayasuriya in his toughest XI batsman, noting it is always a massive compliment to someone to say they changed the game and his storming innings in the 1996 World Cup changed everyone's thinking about how to start an innings!
Jayasuriya is known for both cuts and pulls along with his trademark shot a shot over point Jayasuriya was promoted to the top of the batting order for the ODIs during the 1995-96 tour of Australia and with Romesh Kaluwitharana they made use of the early over fielding restrictions to score freely.
He was instrumental in Sri Lanka's victory in the 1996 Cricket World Cup where he was adjudged Man of the Tournament in recognition of his all-round contributions.
He was named as one of the Wisden Cricketers of the Year in 1997 and served as captain of the Sri Lanka team in 38 Test matches from 1999 to 2003. He is a allrounder with a good batting average in both Test and ODIs and an excellent batting strike rate in ODIs.
As a left-arm orthodox spin bowler he has a reasonable bowling average and economy rate. He regularly helps to decrease the workloads of strike bowler Muttaiah Muralitharan and Chaminda Vaas and has 406 international wickets. Jayasuriya is a skilful fielder Since 1999 Cricket World Cup he had effected seventh highest number of run-outs in ODI cricket of any fieldsman with the eleventh highest rate.
Jayasuriya held the record for the highest Test score made by a Sri Lankan 340 against India in 1997. This effort was part of a second wicket partnership with Roshan Mahanama that set the then all-time record for any partnership in Test history with 576 runs.
Both records were surpassed in July 2006 when fellow Sri Lankan Mahela Jayawardena scored 374 as part of a 624-run partnership with Kumar Sangakkara against South African cricket team.
Jayasuriya holds the world's second ODI score jointly with VIV Richards which is 189 runs against India. He has the fourth highest individual score by a Sri Lankan.
He currently holds the record for the fastest 50 in ODIs scored off just 17 balls. Jayasuriya was the previous record holder for the fastest century (off 48 balls) before losing that claim to Sahid Afridi of Pakistan. He has hit 241 sixes in one-day internationals and currently holds the world record for most ODI sixes. He is the fourth batsman to score more than 10,000 runs in ODIs.
On September 20th, 2005, during the second Test match against Bangladesh, Jayasuriya became the first Sri Lankan to play 100 Tests and the 33rd Test cricketer to achieve this feat. He held the record of scoring most runs in an ODI over (30) he has achieved this remarkable feat twice. This record is now with South Africa's Hereschelle Gibbs 36 runs in an over.
Jayasuriya announced his intention to retire from Test cricket following the Pakistan tour of Sri Lanka in 2005, April. He reversed his decision soon after, and then joined the Sri Lanka team in April 2006 for the tour of England. Missing the first Two Tests, Jayasuriya returned to the team in the third Test at Trent Bridge.
Although his Test performances were not striking, he scored two centuries in the one-day Natwest series, which included 152 off 99-balls in the final match. In that innings he and Upul Tharanga (109) put on 286 runs for the first wicket a - new one-day international record. Jayasuriya's batting display earned him the Man of the Series award as Sri Lanka won the series 5-0.
Following the Natwest Trophy, Sri Lanka travelled to Holland for a two match one-day series. In the first game Jayasuriya scored 157 off 104 balls as Sri Lanka posted the highest team total in limited overs cricket 443 for 9 beating the South Africa 438 for 9 against Australia.
Sri Lanka won the match by 195 runs. On a personal note the innings was his 4th score of over in ODI cricket and he is currently the only player to do so. It was also his second successive score of 150 plus another first in ODI cricket.
He also scored 2 centuries and 2 half centuries in the 2007 cricket World Cup held in the West Indies. In the ICC World Twenty20, Jayasuriya hit two half centuries in the group stages against New Zealand and Kenya. He also achieved a dubious record of having the most expensive figures in a Twenty20 international having been hit for 64 runs in the maximum of 4 overs.
After the Twenty20 World Cup, Jayasuriya played in Sri Lanka's 3-2 one-day international series defeat against England achieving limited success and then in the 2-0 Test series defeat in Australia.
After scoring a half century on day three of the first Test against England in Kandy, he announced his retirement from Test cricket at the end of the match but said that he would continue to play in One-Day Internationals, He also hit six fours in one over against Englishman James Anderson in his last Test innings.
In the 2008, he played for Warwickshire County Cricket Club. In April 2008 he joined the Mumbai Indians to play in the IPL.
Jayasuriya has played in 110 Test matches and scored 6,973 runs, an average of 40.07. He made 14 centuries and 31 half centuries, top score of 340, bowled 8,188 balls, captured 98 wickets at an average of 34.34. Best figures 5 for 34 and held 78 catches.
In One-Day Internationals, he has scored 13,430 runs in 445 matches with an average 32.36. He has 28 ODI centuries and 68 fifities to his credit with an impressive strike rate of 91.20 and a career best innings of 189. As a bowler, he has sent down 14,874 balls, capturing 323 wickets average of 36.75, best bowling 6 for 29 and taken 123 catches. In domestic cricket, he represented Bloomfield Cricket Club.
(Reproduced from Sunday Observer of June 22, 2008)