Young life snuffed out...:
All in the name of facebook
"I was reprimanded by the principal as there were some pictures of me in my facebook page" she told her parents, She had taken a lot of time to say this as she was sobbing uncontrollably" her mother said. Have people forgotten that we were told not to trust everything we read or see on television or on facebook and even on the internet? Handy advise especially when reading facebook news, seeing as how it functions more as a sordid chain mail than news anyway.
The part that really gets is that these posts happen all the time, ones just like these, that are constantly being proved false. Have we become incapable of learning? or are we just so obsessed with being at the forefront of all the latest gossip that we like fox news are willing to just copy and paste whatever our peers are saying? (culled from Internet). This is another story where a young life has been snuffed because of information on a social net working site.
The whole of Kurunegala and the country was in shock and grief over the news of a 16- year- old school girl committing suicide last week, over her picture appearing in the popular social networking site, facebook.
It was a sad day for the whole country and in particular the area in Kurunegala where this girl hailed from. The girl who ended her journey in the prime of her life was Venusha Imandi Bandarage. Venusha was a student and had high hopes about a prosperous future, according to her parents.
However, a minor incident such as a picture appearing on internet cruelly ended her innocent life. The question which now begs an answer is whether the authorities and her peers handled such a sensitive matter in the way it should have been dealt with?
Venusha's parents had a lot of expectations for their daughter. They strived to give her a good education. They expected to see their daughter shine like a star in the night sky. Unfortunately, Venusha's young life was cut short. Who can be held responsible for her untimely death?
According to Venusha's parents she studied in Srimath John Kothelawela Maha Vidyalaya in Kurunegala. She was to sit the G.C.E. Ordinary Level examination this year.
Venusha had three sisters. Her older sister was employed and her younger sister was also studying in same school where Venusha studied.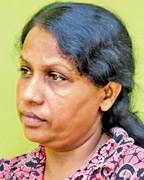 Grief-stricken mother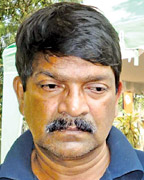 Distraught father
Her mother was an employee of the regional health office in Kurunegala.
Venusha was a bright student and was popular among her friends.
She was creative and excelled in singing and dancing as well as sports. Venusha never wasted time and all the time read books when she had free time.
Students and teachers alike loved her as she had a bubbly personality. She was also an attractive girl and was a leading student in the school.
On that fateful day she went to school as usual in the morning. But on her return she was a different person. She had returned home crestfallen and could not stop weeping.
She sobbed for quite a while and then decided to confront her parents and tell them what happened to her in school that day...
According to her mother she had said that the principal had castigated her in the presence of other students and teachers. "I was helpless and the students jeered at me. I felt sad" she had told her mother.
According to her father, the principal had informed him to come to school with his daughter on the following day." But my daughter told me not to go to the school because I would be found fault with by the principal" she told me he said.
My daughter said she also would not go to school that day. I tried to convince her otherwise but she did not agree. So I left it at that as I did not want to pressurise her", he said.
The grief stricken father said "On Independence Day, my daughter was supposed to attend school to participate in some programs relating to Independence Day celebrations which were to be conducted in the school. However, on that fateful day she did not attend school and began reading books. At the time she was reading I was in my business premises which was in front of my home. My wife had gone to work and I told the servant to prepare breakfast for my daughter".
He can't believe what happened next. The father said "the servant rushed from my daughter's room and told me my daughter was hanging from the beam of the roof in her room. She had hung herself with a saree. As soon as I got the message I was in shock. I ran to her room immediately. My daughter was hanging I could not believe my eyes. I don't even remember how I cut the sari.
Then I took her to the hospital in Kurunegala. Later I came to know that the doctors had pronounced her dead on admission. She had died in my arms in the house. It was a lifeless body that I had taken to hospital" he said in unbearable grief.
"I could not save my daughter" the father cried while relating the incident to us. He was unable to control his imotions.
He took several moments to control himself and then said " later when I checked my daughter's room I saw a letter which she had addressed to me. The letter stated the the principal had admonished her in the presence of teachers and students and she could not go back to school and had decided to end her young life"
Giving evidence at the post mortem, principal of the Srimath John Kothelawela school Saman Indraratna had said that he was a strict disciplinarian and always acted in the best interest of the school. He claimed that when he was appointed as principal of the school there were many disciplinary issues and wrongdoings done by students in the school.
"With the assistance of parents and old boys I stopped those. My experience as an army officer earlier helped me to maintain discipline in school" he had said.
Referring to the incident he had said that he had found a letter in the school complaint box that Venusha had two facebook accounts and that she had carried some indecent photographs in these.
Later I summoned her to the main office of the school and I inquired from her regarding the photographs in front of the deputy principal and the teacher in charge of discipline.
Later she accepted what she had done on facebook. It was in this backdrop that I gave her a date to bring her parents to school to discuss the matter. Later I came to know that Venusha had ended her life, he told the post-mortem inquiry.
Alas a precious life had been lost at the prime of her life. Who is responsible?
**********************
Letter written by Venusha...
In a heart-rending letter addressed to her father Venusha in no uncertain terms blames the principal of the school for the emotional state she was in, as he had pulled her up on many occasions as well without making relevant inquiries. There have been instances where her younger sister too had been admonished by the principal.
On the last occasion the principal had pulled her up in the presence of other students and teachers and had wanted her to bring her father to school. She has stated in the letter that she was not prepared to insult her father by taking him to school to be admonished by the principal. She has also stated that the principal must not take serious note of minute incidents and insult students.
In her letter Venusha has stated that people were with her father because of his money and that once the money was gone he will be all alone and requested him to transfer the property in her name back to him and keep it as a keepsake. Venusha has referred to her mother as well saying that she loved her an concluded by stating
"I love you my family"
***********************
Facebook damage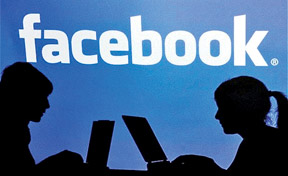 As facebook celebrates ten years, we carry below a story of damage caused by facebook
"I would go so far as to say that the internet in general has gone a good distance in causing a great loss of intelligence for the most part due entirely on the masses that have been using it since it's inception. Most people don't want to use the internet for seeking knowledge, they want it to get their five seconds of fame and for looking up porn to make fun. So the masses have overrun the internet making it more difficult than it used to be to find useful information, not that it isn't still there (more even then once upon a time ago) but it has become increasingly hard to find it.
Logging on to facebook this morning I found myself distraught as yet again there was a wonderful lie being spread about a company. You may have already seen the status updates about Gerber or Nestle, and their banana baby food being stuffed to the high heavens with glass.
At first I was concerned, but then the inner skeptic came out, you know the one, that little --------- who will say "It might be true, to cause the intended damage. I wondered how something simple could be blown out of proportion like that. And then I came upon the conclusion that the invention of facebook and it's ilk have dumbed us down to the point that we've forgotten that there are other sites on the internet.
Yes other sites. I mean how else could you explain that someone saw a status update that is fairly serious and didn't bother to substantiate it before reposting.
- Internet