MICE tourism targets $ 200 m revenue this year
The Meeting, Incentives Conference and Exhibition (MICE) tourism sector targets around US$ 200 million this year, said Sri Lanka Convention Bureau (SLCB), General Manager Vipula Wanigasekera.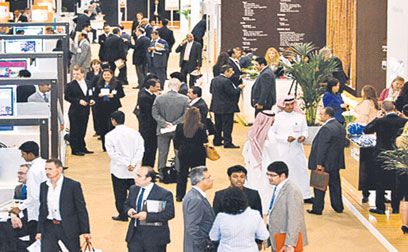 He said that the MICE sector which achieved a revenue of around US$ 160 million last year attracted around 129,000 visitors to the country.
The MICE industry is poised for greater growth this year with the revival of global tourism after a sluggish period triggered by the world economic turmoil.
"We are confident of achieving higher revenue and attract more MICE sector visitors this year which is an eventful year," Wanigasekera said. The MICE industry makes a tangible contribution to the tourism industry and the economy of the country.
It is a specialised area in many countries and in Singapore it has been identified as a separate industry.
Wanigasekera said that plans are a foot to construct a multi-purpose conference hall in Peliyagoda and added that the project would get off the ground soon.
"We need a venue to host a large number of guests due to the space crunch at the BMICH which is the main venue for conferences and exhibitions." "We also plan to set up more exhibition centres in Kandy and Hambantota which will benefit stakeholders including outstation service providers."
This year the SLCB helped in the bidding process to host Hydro Asia, Endocrines Surgeons Conference, Buddhist Media Conference, World Blood Donor Day events, Asia Pacific Postal Union Conference, International conference on Geotechnical Engineering, SAARC ENT Congress and the Asian Youth Games in 2017.Wanigasekera said that there are many other conferences where we provide technical assistance and know-how to promote Sri Lanka as a venue for conferences.
In 2013 "we hosted over 40 international conferences compared to around 28 conferences in 2012. This is a remarkable achievement in the conference sector in Sri Lanka while we are gearing ourselves to host a large number of conferences this year."
He said most exhibitions such as the Edex, Architect, Fabric Show, Power, Hotel Show, Ayurveda, Construct, Shilpa, ProFood, Motor Show, Facet, Book Fair, Techno, Vidulka which were launched as ad hoc events have become permanent international exhibitions today.
"The incentive travel sector has grown tremendously after peace was restored but unfortunately the are no exact figures, which is a global issue, when it comes to statistics for incentive travel. We reckon this to be nearly 80,000 in Sri Lanka considering the numbers from Europe specially France and India," Wanigasekera said.
"They are recorded as tourists hence the difficulty in getting the actual numbers. We have just embarked on research to obtain information from various institutions and by 2015 we will provide the figures," he said. "
Sri Lanka is an ideal location for incentive tourism because of its diversity and attractions such as whale-watching, wildlife and spiritual programs offered to that segment of travellers," Wanigasekera said.
"Incentive travellers spend at least three times more than leisure travellers and that is why we conduct training in outstation hotels as some of the staff members do not know the difference between incentive and leisure travellers where the incentive travellers look for more excitement as part of the package offered to them by their superiors," he said.
Many countries focus on MICE tourism for spin-off economic benefits. Around 11 percent of the visitors to Sri Lanka represent the MICE segment.
A MICE tourist is an up-market visitor who spends three to four times more than the holiday maker.
The MICE industry involves many support services generating a considerable amount of direct and indirect employment opportunities and MICE travel encourages repeat holiday visits and other trade and investment transactions, not necessarily relevant to tourism. Countries such as Singapore and Malaysia launched their leisure brands only in 2011.