Form Abroad
Learn to draw by Tissa Hewavitarane:
Value and modelling
To place the highlights on any object it is important to know the direction from which principal light comes. Light falls on an object and runs over the shape. Depending on its intensity it will provide shadows or highlights of varying luminosity. The valuation depends on the correct gradation of the tones to achieve a scaled effect of grays on the surface.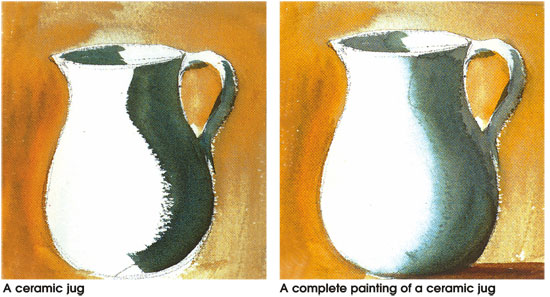 A valuation is nothing more than a classification of the possible tones that can be obtained from a colour. If in scale of tones the differences between one tone and another are made finer until a point is reached when it is impossible to appreciate the difference, an effect of modelling is achieved. Starting from the basis of the volume of an object, it can be painted according to the light that falls on it. It is fundamental to pay a lot of attention to the images and to the explanation.
The process of watercolour painting has a method that must always be respected: the light colours must always be reserved, the dark colours outline the highlights and light areas cannot be painted over dark tones. White is only contained in the colour of the paper and that it is the darker colours which isolate it and make it stand out. These are important factors to bear in mind.
Picture one shows a ceramic jug taken as reference. You will notice a blue colour mixed with yellow ochre being used for the shadow area of the jug. The background, a pale wash is applied. Wait until the background is dry to apply the darker tones. The colours must be carried out in one go, before the colour that has been painted on to the paper can dry out.
The second picture shows a complete painting of a ceramic jug. The jug is drawn and painted and the shape of the shadow is also defined so that the effect of light can be observed more closely.
The background is painted with yellow ochre. The brush is dampened with clean water, it is drained and then it is run along the edge of the still fresh brush stroke. The wet brush stroke with the colour has to follow the shape of the jug. It is dipped in water, drained and run along the edge of the gradated area which fits the shape perfectly.
It is important to work on heavy grained paper. These effects cannot be done on thin paper.