Kolombage's fresh look
"Art is not a handicraft; it is the transmission of feeling the artist has experienced."
Leo Tolstoy (1828-1910)
When the world decided to celebrate the 2600th anniversary of the Supreme Enlightenment of ascetic Siddhartha in 2011, artist Gunasiri Kolambage, contemplated an entirely new approach to pay his tribute to the Buddha.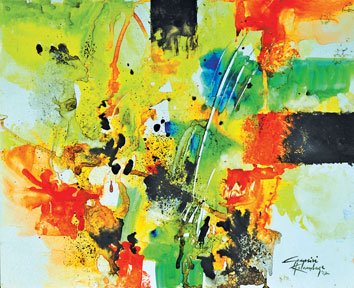 With honour, adoration and the most profound devotion, he conducted the Buddha to his studio. He painted a series of Buddha portraits, preserving the sacred and the holy associations of the presence of Samma Sambuddha.
Artist Kolombage's creativity enabled him, on that occasion to present to the discerning world of art-lovers, a gallery of portraits of the greatest man who ever lived.
I vividly remember how a foreign woman inquired, whether Kolombage had the Buddha sit for these portraits. That done, where could a mature artist proceed from there? After such an unassailable peak, anything else would be anti-climactic. Unfazed, artist Gunasiri Kolambage set to work-armed with brush, palette and canvas.
But, where is the theme?
How about the subject matter?
Any model?
Inside or outside?
For whom?
Hesitations were endless. He confronted himself and looked within. What had he done during a lifetime of painting. His soul answered: "Gunasiri, you have been looking for life. Where is it? Can you give it shape and form?
Conscience
True to his conscience, he turned inwards. He explored motifs that could represent life.Finally, he made up his mind. For an artist, the symbols of creativity and life are the patterns, designs, shapes, forms and colours. They are the elements that infuse life to art.Given this land of background he settled down to create "Life's motifs". The central motifs are arabesques, linear shapes and varying shapes of pigmentation.
Imagination
Using his creative imagination to the utmost, he makes the patterns of curved lines to articulate a variety of concepts. Such an array of paintings, invariably poses a challenge to the spectator. The viewer has to a wrest out a meaning for himself.
The spectator is invited not merely to look but also to read.
When one looks back upon the event-filled past of this artist, one cannot help but wonder, whether there is any other reputation to match his.From 1959 on, he has been producing works that earned encomiums.
During his long career, he has been in a whole range of professions and vacations.
He entered the field of advertising as an art director. He travelled abroad, both as an advertising professional and as an artist. His range of art is expensive. He indulged in studied pottery. He experimented with synthesising techniques. His art is exhibited at venues outside Sri Lanka too. But, the surprises are not over.
Exhibition
Simultaneously with the launch of his exhibition of paintings "Life's Motifs", his latest coffee table book Devil's Palette will also be placed in the public domain. Gunasiri Kolombage, is an ever-renewing source of creative energy. After the current exhibition of art, he may move of to an arca, that will perhaps surprise us all. A special reference has to be made to the contemporary Arts and Crafts Association of Sri Lanka, the patron. The Association's chairman ubiquitous Harold Pieris is an ultra active supporter of art and artists. The twin event, art-launch and book launch is a tribute to chairman Harold Pieris too. And that tribute is well-earned as he was constantly with the artist, at every turn.As for artist Gunasiri Kolombage, he will continue his explorations seeking motifs, other themes and techniques.