'West has only a fraction of the votes':
'Ground' in Geneva favourable for Lanka – Dr. Dayan Jayatilleka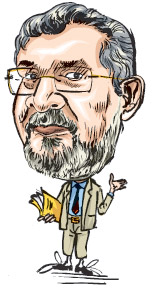 Sri Lanka's former Ambassador to the UN in Geneva Dr. Dayan Jayatilleka said with the West having only a fraction of votes in the UN Human Rights Council (UNHRC), the "ground" in Geneva is favourable for Sri Lanka if the support of Brazil, Russia, India, China and South Africa is harnessed as a bloc against the third US sponsored resolution next month.
"When we get things right we can defeat the UK-US and Madam Navi Pillay's offensive, drummed up by the secessionist Tamil diaspora vote bases," he said.
Dr. Jayatilleka said Sri Lanka achieved this milestone in May 2009 to defeat a resolution aimed at calling off the humanitarian operation, securing 29 votes out of 47, which the superpower US failed to get in either of the two resolutions it moved against Sri Lanka in 2012 and 2013.
Sri Lanka scored three victories in Geneva from 2007 to 2009. "We got the West to remove its draft Resolution of 2006 from the UNHRC agenda, we prevented a "Stop the war Resolution" in March 2009 at the UNHRC's 10th session and we passed our own resolution with 29 votes in May 2009."
He said Africa, Latin America and Asia tend to vote on the basis of what the regional sub-superpowers or pivotal powers do rather than what the USA or UK tells them.
"In Asia, the pivotal powers are India and China, in Africa it is South Africa and in Latin America it is Brazil followed by Chile and Argentina," he said.
Dr. Jayatilleka said that in Asia, the role of India is far more influential in US thinking than that of Israel adding that Sri Lanka's road to Washington DC lies not via Tel Aviv but rather New Delhi.
At the UNHRC 34 out of the 47 votes - that is 72 percent of the votes - come from the three regions of the Asia-Pacific, Latin America and Africa. The West has only 13 votes.