Fewer accidents, more fatalities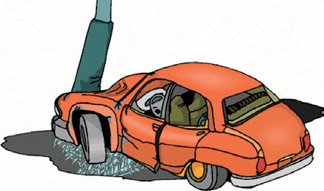 The number of patients admitted to government hospitals following accidents has dropped, but deaths from such accidents have increased, National Hospital sources said.
"Earlier we had around 100 accident victims being brought to our wards daily. The numbers have now dropped to about 75 a day. Our concern is that the number of deaths resulting from accidents has increased", Deputy Director, Accident Service National Hospital, Colombo, Dr Cyril de Silva told the Sunday Observer.
"Around one or two people are dead on admission or are beyond help to save them despite our efforts. Many of these accidents are preventable", he said. Road accidents now top hospital admissions. Dr de Silva said that the number of accidents, especially road accidents had dropped due to the islandwide awareness and educational programs which the Health Ministry conducted with the help of the police.
"These programs don't merely focus on accident prevention. They also include other important factors such as preventing non communicable disease for the benefit of the public.
Training programs for traffic police include not only guidelines and demonstrations on how to prevent accidents but also how to handle a situation following road accidents".
The response to this multi-disciplinary approach has been encouraging", he said.
The Health Ministry was also conducting outreach programs islandwide for students, motorists and pedestrians. "Our goal is to have zero fatalities and reduce the number of accidents significantly in the future. This can be done with the support of the public", he said.
According to police statistics around 42,000 road accidents were recorded in 2012, with the number dropping to 37,500 last year.