TNA instigating people against Govt – Minister Amaraweera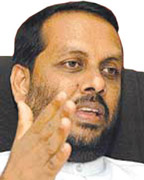 Disaster Management Minister Mahinda Amaraweera said the TNA with the backing of certain Western countries and the Tamil diaspora are attempting to provoke the people against the Government aiming at a regime change in Sri Lanka. The Government has taken this seriously.
The outcome of every recently concluded election is clear testimony that the people have no intention whatsoever of changing the incumbent Government. The majority of the people have reposed faith in President Mahinda Rajapaksa and the Government, the Minister told the Sunday Observer yesterday.
These Western powers could never apply the same theory which they adopted in Egypt, Libya or Iraq, in Sri Lanka because the people had fully endorsed the programs initiated by the Government. TNA politics will ruin the peace and economic dividends enjoyed by the Tamil community, he said.
In a situation where the TNA resorts to various undemocratic and anti-government campaigns, the people in other parts of the country may ask the Government and the President as to why a huge amount of money is allocated to develop the North.
The radicalised politics practised by the TNA would cause a grave injustice to people in the North. However, the Government would continue its development drive on behalf of the Northern people as planned.
Minister Amaraweera said the TNA does not reflect the voice of the Tamils. They are acting according to the dictates of certain Western countries and the Tamil diaspora. This is why the TNA passes anti-Sri Lankan resolutions in the Northern Provincial Council.
If these Western countries are so concerned about Sri Lankans they should have visited the country during LTTE terror. When thousands of hapless civilians and Security Forces personnel were killed at the time, none of the Western Leaders came to Sri Lanka. Not a single person was killed or a bomb exploded after terrorism was eradicated.
If these Western countries are sincere, they should help people to improve their living conditions. Instead of doing so, they are harping on the past and trying to bring about a regime change in Sri Lanka. But their strategy would come a cropper.