'Hello Girls' who never said 'Hello'
The present generations who are using and enjoying the latest smart phones will be shocked to hear that 'Hello girls' (telephonists) never said 'Hello' in the past.
There was a time upto the late 1980s when the telephonists of the Postal and Tele communication Department rendered a yeoman service to the public. The Central Telephone Exchange (CTE) was the main centre of communication.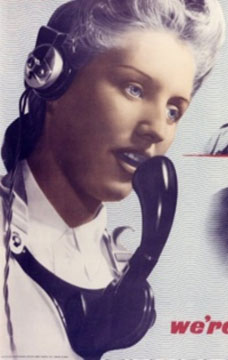 There was an exchange in every district. A postmaster was in charge of the exchange and there was a chief supervisor at the CTE. The telephonists at every exchange started their duty at 7 a.m.
They worked seven hours a day, and were on rotation. The last shift was from 11 am to 6 pm.
Whether there was rain or sunshine the telephonists had to report for duty. The latecomers were punished. The girls worked under the strict supervision of lady supervisors.
The work was methodical.
During that period the Governor General, the Presidents, Prime Ministers, Members of Parliament and all the heads of departments had to get the assistance of the telephonists to have their (trunk) calls connected. The telephonists were busy as bees right throughout the day helping subscribers. It may be from one station to another, eg Colombo to Jaffna or Kandy to Nuwara Eliya. Sometimes the subscribers had to wait for long hours after booking calls to distant stations. Priority was given to VIPs. Thousands of calls were connected between the subscribers. Overseas calls were booked through the exchanges. A time and a date was given according to the subscriber's wish.
Not only assisting the subscribers with trunk-calls, the telephonists worked at the telegram section.
Nowadays the present generation knows nothing about a telegram. In the past all the urgent messages were sent by telegram from one post office to another.
The government departments and ordinary and people sent their messages by telegram. These were not delayed. Telegrams to distant stations were sent on creed.
Then comes the "Account section" where the telephonist had to price the tickets (the calls are booked on tickets) sort according to the stations, enter th em in the bills and at the end of the month balancing and posting.
The subscribers received the bills by post.
Now the CHOGM is over in Sri Lanka, my mind goes back to 1976 when the non-alligned Conference took place.
The telephonists did their best without any of the modern electronic equipment.Although we were called 'Hello Girls' we never said 'hello'. We answered by the name of the station we worked. eg. Kandy, Galle or Colombo.