'Make the most while in school'
Grace Sachindri Wikremasinghe representing Visakha Vidayalaya received the trophy for the second runner-up in the 6th Asia Schools Debating Championship (ASDC) held at Sri KDU University, Kota Damansara, Selangor, Malaysia, which is also the largest debating competition held in Asia. Shenali Urugoda of Ladies College and Dinushi Deumini of Holy Family Convent, Bambalapitiya were among the 12 finalists chosen.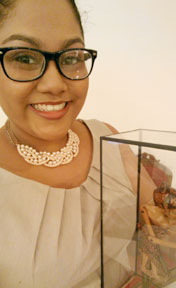 Grace Sachindri Wikremasinghe
Here is an interview Sunday Observer had with Grace on her achievement.
She is a 19-year-old A/L student pursuing studies in the Arts stream with political science, English Literature and GRC as her subjects.
Q: How did you feel about this achievement?
A: It was my first time debating internationally. I didn't think of winning this competition but I just wanted to get the message across through the topics I was assigned to speak.
Q: What was the topic you were assigned to in the finals?
A: All of the 12 finalists had to give a public speech on the topic "Ouch!" I spoke about stereotypes prevailing in the society. I spoke about the stereotype of a fat person.
Everyone thinks that fat people always eat, don't exercise, are lazy...but when you think about it, a thin person could be the same. What I think is everyone should be comfortable in their skin.
Q: Didn't you feel nervous or exited during the finals?
A: No not at all. I love talking to crowds. I didn't even write my speech, I don't feel comfortable doing that. I'm more of a spontaneous speaker. But when I knew I was in the finals I was thinking, "Like, That's crazy? What? I'm among the final 12?"
Q: What were the other countries that took part in the event?
A: There were participants from Bangkok, Qatar, Thailand, The Philippines, China, Singapore, Malaysia and Korea.
Q: What were the extra activities were you engaged in, in school?
A: I'm a water polo senior coloursman, I captained the Visakha diving team (2012-13), I was in the scrabble team, a first class guide.
Q: What are your future goals?
A: I want to do a lot of things, not just stick to one. I'm expecting to do my LLB after law. I want to be an advocate. I want to join the UN.
Q: Who are the people who helped you in the journey for you to come so far?
A: A lot of People. My school, my principal Mrs. Sandamalie Aviruppola, Teachers in charge, Mrs. Asiri Payagala and Mrs. Champika Delpagoda and my trainer Ms. Jayani De Silva, Mr. Damitha Karunarathne, all Sri Lanka teams, family and close friends.
Q: What kind of support have you received from your parents throughout your life?
A: My parents never told me to win. They always told me to give my best.
And that's why I think I'm where I am because of the way they taught me how to look at life. Even when I lost they were all about feedback and improvement, about ways I could do better next time.
Q: What advice do you give to young debaters?
A: Don't start debating just because it looks good on your CV, Not because your parents force you to debate. Debate because you want to debate.
My water polo teacher used to say "You excel in things you truly love."
Try out everything at a really young age so that by the time you are old, you'd know where to go.
Try to make the most of your time in school so that when you leave you'd have good memories and not only about buildings.
Here are some candid quotes that were included in Grace's speech.
"Fashions come in all sizes. If Chihuahuas have clothes darling, so do we."
"Guy goes like: Did it hurt? Fat Girl: What? Guy: When you fell from heaven? Fat Girl: Yes. Guy: (confused) what? Fat Girl: Yeah the floor cried cause I was fat." Asian Schools Debating Championship is the largest debating tournament in Asia.
The first ASDC was held in 2009. The 6th ASDC was held in Selangor, Malaysia.