Rice imports stabilise prices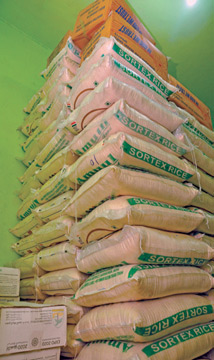 Rice prices in the market have stabilised with stocks of rice imported from India and Pakistan coming into the market.
However, there is no significant price decline and the wholesale price of local Nadu was over Rs. 66 per kg and local samba was over Rs. 76. The wholesale price of imported Ponni Samba was Rs. 67.
Traders said that local Nadu rice is not available in the market and the decision to import rice was a timely decision. Local rice supply has declined due to the drought which hit paddy production since the last Maha season.
The estimated paddy harvest in 2013-14 Maha season was 2.4 million tonnes, a significant decline compared to previous years. Sufficient irrigation water was not available to cultivate paddy during the Yala season in the main rice growing areas of the dry zone this year and farmers were advised to cultivate other crops. As a result, a shortage of rice was looming and prices increased sharply. However, farmer organisations said that the rice shortage was created by a cartel of large mill owners. As a result of higher paddy prices during the harvesting season, small and medium sized mill owners failed to collect sufficient stocks.
The open market paddy price increased above the government's purchasing price due to short supply and large mill owners collected most of them.
According to the Department of Census and Statistics sources, stocks available are sufficient till December and the Director General of the Department, D.C.A. Gunawardena said that there was no reason to panic.
-GW