Hameedia partners SLTA
Hameedia has partnered with Sri Lanka Tennis Association (SLTA) as the official clothing sponsor of the SLTA.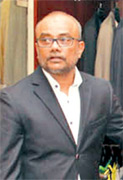 The company will provide clothing for three SLTA events a year from June 2014 to May 2015. Hameedia will also provide clothing for the organisation and playing kits for tennis players participating in the Davis Cup, the Federation Cup and all wheelchair tournaments.
Managing Director, Hameedia, Fouzul Hameed said, "Hameedia is honoured to be associated with Sri Lanka Tennis and we look forward to supporting our national tennis players. Every member of each tennis team is a unique brand ambassador for Sri Lanka and Hameedia."
"The players are continuously in the spotlight and receive local and international attention and publicity.
During our sponsorship period, I will personally train the players on the intricacies of etiquette and the diverse demands of total grooming," he said.
"Hameedia has a strong local and international track record and has been impacting fashion in the country and abroad for decades," Hameed said.